Did you know that 7 day weather forecasts you find on the internet are only 80% accurate?
It also doesn't provide hyper-local info about your current weather conditions. But with a personal weather station like Davis 6250, you will have a precise weather reading in your exact location. 
Read a long to learn more about my Davis Instruments 6250 Vantage Vue review. This tool fits first-time users that want to monitor complete list of weather variables! 
About the Davis Instruments 6250 Vantage Vue
Davis is one of the most famous weather station brands, well known for their affordability, accuracy, and reliability.
It reads humid conditions, indoor temperature, outdoor temperature, extreme conditions, and strong winds.
If you're a weather enthusiast, one of their best-selling models is Davis Vantage Vue 6250 (from Amazon), a wireless weather station with easy installation. 
The package includes an integrated sensor suite (ISS), LCD console, and mounting hardware. The wireless sensor suite also uses solar panels for energy with backup batteries. It can monitor wind direction and speed, temperature, and humidity.
The sensors also include a rain collector with a self-emptying tipping spoon to measure the rain. It's guaranteed to be durable because of its weather-proof cover and louvered radiation shielding.   
This device by Davis also has an LCD console that serves as an alternative to a web-based connection. You can quickly check the weather with its forecast icons. 
There is also information on the unit about barometric pressure, temperature and humidity, and other weather variables. You'll find domed buttons on the gadget that glow in the dark.
Vantage Vue utilizes the Frequency Hopping Spread Spectrum (FHSS) technology for transmission. FHSS strengthens reception quality for up to 300 meters from the sensors.
PROS
Provides accurate readings.
Quick update rate and alarms.
Informative display of daily weather trends. 
Backup battery.
CONS
Assembly takes 30 Minutes.
Outdated Console.
Connectivity Issues.
An all-in-one package hinders precise siting.
Things to Consider Before Buying a Weather Station
Before checking whether Davis Vantage Vue 6250 is worth the purchase, take a look at the critical features every weather station should have.
Sensors
Weather stations have different kinds of sensors for monitoring different conditions. At the very least, here are the sensors that the product should include:
Thermometer – to measure the temperature indoors and outdoors.
Humidity sensor – measures the relative humidity outdoors.
Barometer – detects the atmospheric pressure.
Rain gauge – monitors information about rainfall and precipitation.
Anemometer – to measure the speed and direction of the wind.
Danger alert – gives you notifications about dangerous storms and hurricanes. 
Accuracy
Accuracy is the most essential feature to look for when buying a weather station. Check the precision of each sensor.
It should not be over 5% different from the National Weather Service's readings. And the margin of error should only be 1-3%.
Durability
Accurate weather stations won't serve their purpose for a long time if they are poorly constructed. Avoid units that are made of low-grade plastic since they quickly deteriorate due to rain or direct sunlight.
Look for solid materials like a solar radiation shield and weather-proof cover. These parts will protect your sensors without affecting the temperature, humidity, and wind readings. 
Internet Connectivity
An innovative weather station with good signal quality lets you monitor the current weather conditions anywhere you go. Just download a mobile application, and you'll get an overview of your situation at home. 
Look for a personal weather station with internet connectivity. Aside from monitoring the reports, you can also upload data to services like Weather Underground or WeatherLink. 
Data Transmission
The span between the console and sensor should be wide enough to obtain more reliable readings.
Take note that you will be installing the instrument in your backyard or rooftop. Hence, data transmission should be complete and quick despite extreme conditions and obstructions. 
Go for weather stations that provide 1000 feet of wireless data transmission. This transmission range is true for open spaces. But with walls and other obstructions, the range reduces to 200-400 feet. 
Quick Updates
Your readings' accuracy also depends on the refresh rate of data transmission. If your weather station only gives data every 3 minutes, then current readings may already be inaccurate since the weather changes every second. 
A weather station with a quick speed of data updating allows you to get more recent data. Go for weather stations with a  refresh rate of 10 seconds or faster. 
Organized Display
Your weather station doesn't need to have a modern display. It should at least be organized and easy to read for any user.
Readability allows the user to quickly understand the details, such as the temperature, wind speed, and air pressure.
It's also ideal for the console to display forecast icons, like a sun for a sunny day. These small features will help both beginners and professionals understand weather predictions.
Weather Station Placement
The mounting instructions for your weather station depend on the brand. The general guideline is that thermometers and hygrometers should be at eye level.
And anemometers should be about 33 feet above the floor.
The rain gauge should not be too low to avoid abnormal readings. Don't place your sensors above the concrete and other heat radiators.
How Long Does a Davis Weather Station Last?
Davis Weather Stations have a long service life of 10-15 years, depending on how you maintain it. This length is more extensive compared to other weather station brands.
It can last for up to 15 years if you clean the sensors at least twice a year. But it also depends on how severely exposed to elements the device is. 
What is the Difference Between the Vantage Vue and Vantage Pro2?
The Vantage Vue is more suitable for first-time weather station users. It's an all-in-one sensor that is easier to install and maintain. 
Meanwhile, you don't need to compromise accuracy with the Vantage Pro2. It's not an integrated sensor suite so you can place each sensor at the correct height and position. 
Benefits of the Davis Instruments 6250 Vantage Vue Wireless Weather Station
Meteorologists, storm chasers, gardeners, and weather enthusiasts love having their 6250. Take a look at the features of this personal weather station and software that they found impressive.
Provides Accurate Readings
Davis never fails when it comes to accuracy. The Vantage Vue can precisely provide data about current weather conditions, even better than other weather stations out there. Here are the hard specs:
Temperature sensor: ± 1° F.
Humidity sensor: ± 3-4% RH. 
Barometric pressure: ±0.03 in HG.
Rain: ± 5%.
Wind direction: ± 3°.
Wind speed: ± 2 mph.  
I like that the accurate details are displayed on the console, so I have easy access to them. The integrated sensor suite can communicate information from 1,000 feet apart. This feature is ideal for anyone who plans to mount the unit slightly away from home.
There's also no need to worry about artificial or biased readings because the sensor has a solar radiation shield. If you happen to place it under direct sunlight, the temperature remains impartial.
The Davis suite includes an anemometer for wind speed and direction. There are also indoor and outdoor thermometers and hygrometers available. 
A tipping cup mechanism is present in the rain gauge. This tool helps measure the rain down to hundredths of an inch. 
Video: Davis Vantage Vue: Overview from Box to Setup
Quick Update Rate and Alarms
The Vantage Vue 6250 updates every 2.5 seconds, which makes it one of the speediest weather station models. Many find this quick refresh rate surprising, considering the very affordable price of 6250.
As someone who lives in a location prone to heavy rain, I need a responsive weather station to give me flood warnings. Davis can provide 22 kinds of alarms at once regarding dangerous temperatures, flood warnings, rain rates, and high winds. 
You also have the option to adjust these alerts according to your conditions. For example, if you live in a tropical climate, you can increase the dangerous temperature levels to make the alarm useful.
Informative Display of Daily Weather Trends
The integrated sensor transmits information right into the console. It also shows the date and time stamp, along with sunset and sunrise. I usually base my gardening activities on the moon, and 6250 has been helping me track the moon's current phase.
You will also see trend arrows on the screen to check if the values are rising or falling. This feature allows me to monitor possible conditions throughout the day. When I notice the air pressure going down, I take the necessary precautions before it rains.
Davis Instruments also offers graphical representations of data over time. There are almost 50 graphs about different weather variables saved on the display.  
Backup Battery
This quality weather station unit by David uses a solar panel as its main energy source. You won't experience issues with its performance since it stores energy for days that aren't bright. 
Whenever I check the wind speed at night, Davis 6250 stays reliable. It's equipped with a supercapacitor to give the small, all-in-one sensor energy throughout the evening.
The weather instrument also uses backup lithium batteries if the solar panels don't work.
Disadvantages of the Davis Instruments 6250 Vantage Vue Wireless Weather Station
The Vue does a great job of giving warnings about dangerous weather conditions. But it also comes with a few drawbacks you should know. 
Assembly Takes 30 Minutes
Davis always includes a user manual for assembling their weather stations. The instructions are clear, but the procedure itself takes 30 minutes. The 6250 has all the nuts and plugs you need except the mounting pole. 
I also had to set up the desktop console, which was time-consuming because there was no website or application. You can upgrade your weather station by purchasing WeatheLinkIP, but the assembly will undoubtedly take longer.
Outdated Display Console
Most quality weather stations come with colored, touchscreen, and modern consoles. But not Vantage Vue. It looks old with its basic LCD design and bright orange backlight.
The backlight helps you read the information in the dark. But if you don't like how it looks, you can turn it off using the toggle. It also has ten labeled functions without aesthetically pleasing icons. 
This console requires an AC adapter, including a battery for backup. If you install three C batteries, it will keep running in case of a power outage. These batteries will get your console running for nine months without power.
Overall, the Davis console is vintage but still functions well as the new models. There are also rumors that Davis Instruments is either working on a new console or creating console-less stations.
Connectivity Issues
While Davie 6250 has a quick refresh rate for the most common weather variables, its internet connection lags. If you want to import data from your computer to WeatherLink, you must purchase the WeatherLink Connectivity Kit. 
Get the dongle and the licensing software, then attach the hardware to the console. There are versions for Windows and OS X, but you can pay extra for a direct connection to WeatherLinkIP.
I suggest you get the WeatherLinkIP to avoid PC connection every time you upload data. It's also easier to use. Just remember the device ID on the dongle and register for an account on WeatherLink.com.
Video: How to Connect the Davis Vantage Vue to WeatherLink Live (WiFi)
One thing I noticed about the desktop application is the dated interface. It will take you on a trip to the 90s with its user interface. If this is a dealbreaker for you, switch to a third-party software option. 
The desktop app is also available on your mobile device. Download WeatherLink on iOS or Android, so you can easily access current conditions. 
You can also see daily, monthly, and yearly extremes on the app. This paid feature has been very handy to me ever since I've been going out. I can quickly monitor the weather conditions at home while I'm traveling or out for work. 
All-In-One Package Hinders Precise Siting
The main drawback with 5-in-1 sensor suites like the Vue is creating a compromise height. You can gather accurate temperature readings if the sensor is at eye level. But the wind vane has to be high to avoid obstructions. 
I prioritize accurate temperature and humidity, so I mounted my gadget four feet above the ground. It follows that the wind readings become unreliable.
What People Are Saying About Vantage Vue 6250
The majority of Vantage Vue users love their weather station despite the design being behind the times. I noticed that weather enthusiasts, including myself, prioritize the accuracy of their devices over anything. The Vue 6250 gives reliable information when tested with other weather stations. The sensors remain accurate, thanks to the radiation shield. Those who have had the device for years state that their gadget has survived extreme weather conditions. 
The station works excellently during extreme outdoor temperature times like wind chills, heavy snow, and hot summer days. Users never encountered issues with the temperature and humidity sensor and anemometer.
However many customers reported problems with the rain gauge after 12 to 18 months of use. 
Consumers recommend cleaning the all-in-one sensor twice a year, to a certain degree, to ensure its longevity. So even if doves like to sit on your sensors, it will keep working. Some think installation is easy because of the complete package, but others have difficulty mounting the heavy sensor. 
In summary, people are satisfied with their purchases because of their durability and accuracy. Some think the price could be lower, considering its dated console. Others complain about the short 30-day return policy and poor customer service. 
Verdict
The Davis Instruments Vantage Vue 6250 rightfully leads the weather station market. Most meteorologists do not trust all-in-one sensor packages because of inaccurate readings, but 6250 has changed the game. 
You can mount the Vue at a compromise height, and it will guarantee accurate temperature, humidity, wind, and rain readings. It's also easy to install because the box has all the mounting tools you need.
Davis includes a radiation shield to protect you from solar radiation and other radiation sources that might affect your readings. It also features a bubble level for better data collection.
If you're determined to purchase the Vantage Vue, you can get it here! For more great reviews, check out our breakdown of the best freezer alarm systems.
Davis Instruments 6250 Vantage Vue Review - Accurate And Durable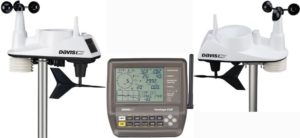 Product Brand: Davis Instruments
Product In-Stock: InStock
Last update on 2023-12-06 / Affiliate links / Images from Amazon Product Advertising API