Are you tired of the basic weather forecasts that you receive on your phone or TV? You can skip all the speculation and let this guide show you the best weather stations that provide clear readings for the current and future conditions. We will also go over the essential features to look for when purchasing a home weather station.
Getting the right weather station will help you make decisions for your home, garden, and other outdoor activities. Check out our recommendations that will help with your decision. 
Comparison Table of the 8 Best Home Weather Stations
What Do Weather Stations Do?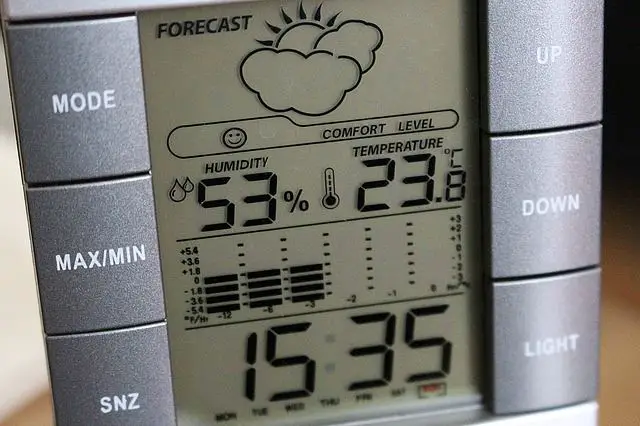 Weather stations are tools that gather weather-related information using a number of different sensors. It usually includes tools like a thermometer, barometer, hygrometer, and wind vane. These sensors aid in giving rain and wind measurements to manage your home and environment. 
Weather stations are also known as weather centers or weather forecasters. They can be as simple as analog devices or as innovative as digital consoles.  Newer weather stations allow mobile phone integration so you can access the readings remotely.
Take a look at the types of sensors that weather stations usually have.
Thermometer
The most basic weather stations include temperature readings that keep high and low records. They can also show trends to settle whether the temperature is going up or down.
Hygrometer
Hygrometers measure the humidity levels depending on the environment's temperature. In return, humidity also influences the dew point, fog, and heat index.
Barometer
A barometer provides information on atmospheric pressure. Changes in this variable help the weather station create weather predictions. Some units include trend arrows to indicate whether the pressure is falling or not. 
Anemometer
The anemometer gives you data on how quickly the wind is blowing. In short, it measures the wind speed in MPH, KPH, or knots. Like the other sensors, anemometers record the peak speed readings.
Wind Vane
A wind vane helps you check the direction in which the wind goes. A good weather station uses a 16-point wind rose for optimal readings.
Rain Gauge
A rain gauge collects rain to measure trends in rainfall. The sensor in the rain gauge may also give you alerts that a rain event has started. 
Are Home Weather Stations Accurate?
No weather station is perfect. But they can give you good results with a margin of error of one to two degrees. For the humidity readings, the fluctuation in the actual values should only be 10% to 15%.
Where is the Best Place to Put a Weather Station?
It depends on the type of weather station you have. All-in-one sensor suites should be 10 feet or higher from the ground. You will most likely need a pole or fencing to mount the device. 
Ensure it's away from sprinklers, trees, and other barriers that might affect the readings' accuracy. The general rule is to double the distance based on the object's height. For example, if there's a ten-foot tree, your weather sensor should be twenty feet away from it.
What to Consider When Choosing the Best Weather Station
Examine the following features when deciding which smart home device weather station you should get. 
Sensors
For what will you use the weather sensor? The answer to this question will determine which sensors you need for your device. Basic personal weather stations provide the following:
Temperature and humidity.
Wind speed.
Wind direction.
Barometric pressure.
Rainfall measurements.
Professional weather stations can give you more advanced weather variables like ultraviolet radiation and moon phase. They may also include weather icons that identify sunny, cloudy, or snowy. 
Accuracy
A high-quality weather station offers accurate readings to help make more informed decisions. A broad range is also essential, whether it's for the temperature or wireless transmission. For example, the temperature sensor should have a -40℉ – 158℉ range with 3-degree accuracy.
Accuracy is also associated with resolution. This factor refers to the precision of the data collected. For example, one degree can be the smallest increment that a thermometer can measure. 
The refresh rate also influences the accuracy of data. Excellent weather centers have a 2.5-second rate for continuous updates.
Some weather stations even have additional sensors for more accurate and real-time readings.
Durability
Buying poorly-made weather stations might lead you to get a new one after a few months. Cheap weather stations can get damaged after a bit of rainfall. So remember to get a device that can withstand extreme elements for many years. 
Connectivity Features
WiFi connectivity is necessary if you buy a weather station for professional use. This integration with other devices lets you upload data to systems like Weather Underground. Display, share, and analyze weather trends with other weather enthusiasts on this platform.
Some also have their own mobile device applications for remote monitoring. These apps feature graphs and alerts if the measurements exceed the normal levels.
High-end weather stations have smart home capabilities and Alexa. You can connect them to IFTTT to adjust your heater or AC when the temperature reaches a certain level. The weather station may also prompt your smart sprinkler to shut down when it senses a rain event.
Installation
Setup is an important consideration when you're getting a weather station. The last thing you want to experience is having a short cable for your console. If you plug it somewhere far away, it won't display the current weather information.
Go for a dual-powered weather station for an easy installation. Plug it to the nearest outlet and have batteries ready if the power goes out. Or just pick a wireless weather station so you can place it anywhere you want.
Weather Forecasting
Weather stations should use multiple data from atmospheric pressure for weather forecasts. Other variables they can use for predictions include the wind speed, humidity, and global positioning of the device. 
Top 8 Home Weather Station Review
After extensive evaluations of each device, here's a review of the eight best home weather stations you should try. 
1. AcuRite Iris Weather Station 5-in-1 01540M
AcuRite 5-in1 Weather Station is an ideal choice for those who wish to set up their weather station seamlessly. Unlike other devices, AcuRite does not require cables nor create clutter. Their Iris model uses WiFi connectivity to monitor temperature, rainfall, wind speed, humidity, and wind direction. This 5-in-1 tool includes a wind anemometer, thermometer, hygrometer, rain funnel, wind vane, and operational sensors. 
With wireless connectivity, you can share your weather data with other weather stations and databases like Weather Underground. The AcuRite 5-in-1 sensor unit records high and low data with self-calibrating options. You can remotely monitor the sensor data with the Weather Underground application. It connects you to your device for a superior weather forecast even if you're away. 
The wireless unit can give accurate readings of both indoor and outdoor conditions with its beautiful display. The display console is colorful and readable from afar. You can let it stand on your desk or mount it on a wall. 01540M by AcuRite is ideal for anyone who needs a basic weather station with a wireless setup. It doesn't have extra features, accessories, and smart home connectivity.
PROS
Wireless connectivity makes the setup look neat.
LCD is simple but informative.
Affordable price range.
CONS
No smart home connectivity and Amazon Alexa features.
Unresponsive customer service.
---
2. La Crosse Technology 308-1414B Wireless Weather Station
La Crosse offers the best parameters among the vast array of affordable weather stations. It's a well-known weather station that gives precise and real-time reports. 
The personal weather station determines the weather conditions with the vibrant LCD monitor. You'll see animated icons for sunny, partly sunny, rainy, stormy, and more. Impressively, this wireless weather station also displays the temperature and humidity with huge digits. 
La Crosse Technology has a wireless transmission range of 330 feet. You don't have to worry about walls, glass, and trees interfering with the connectivity because the sensor claims to be strong. This weather station automatically sets the time and date and resets daylight savings. You can also choose from seven time zones to suit your location. 
Another notable feature of La Crosse is its constant backlight to help you read the temperature and humidity from a distance. But you need a 5v power cord to keep the monitor lit 24/7. Overall, it's a cheap yet durable weather station for amateur meteorologists who want to monitor their comfort levels. It's also a basic weather station with accurate weather readings,
PROS
Constant backlight for readability.
Wide temperature and humidity range for indoor and outdoor.
Wide transmission range of 330 feet.
CONS
Basic weather condition readings.
Lithium batteries are not included.
The humidity sensor is not waterproof.
---
3. Sainlogic Professional WiFi Weather Station
Willing to splurge on a professional weather station that has all the measurements you need? Sainlogic offers highly immersive weather data with a large color display on the console.
Aside from actual temperature and humidity readings, it also tells accurate wind readings like speed and direction. The user-friendly monitor shows the dew point, rain rate, barometric pressure, heat index, moon phase, and more.
Sainlogic is one of the most reputable in the weather station market because of its 14-in-1 feature and wide transmission range of 328 feet. Most of all, the weather station sends alarm warnings when it observes abnormal weather information.  
This fantastic weather station also offers WiFi connectivity and data sharing to Weather Underground's application. You can also view, share, and analyze data from WeatherCloud.
PROS
All-in-one professional-grade weather station.
Compatible with weather apps like Weather Underground.
Colorful LCD screen.
Accurate weather forecast.
CONS
Not intuitive for beginners.
Expensive.
---
4. Ambient Weather WS-2000 Smart Weather Station
Ambient Weather is an Amazon best-seller because of its affordability and accuracy. The WS-2000 weather station is the premium pick from the brand, which uses Smart home features. These include Amazon Alexa and Google Assistant. 
Simply connect the unit to your WiFi, then perform a voice command about hyper-local forecasts. The Smart Weather Station also uses IFTTT to control other devices, like your AC. For instance, if your indoor temperature reaches 85 degrees, the AC automatically opens. 
This wireless device has a tablet-style console to make your weather readings more stimulating. You also have the option to choose a light or dark background, which other weather stations can't do. 
The WS-2000 utilizes a wireless transmission of 915 MHz with a range of 300 feet. It boasts a straightforward setup because it doesn't require additional modules anymore. 
Ambient does not connect to WeatherCloud and Weather Underground. But it has its own weather data logging site, which you can view from your phone or PC.  
PROS
Easy to set up, unlike other WiFi weather stations.
Compatible with Amazon Alexa and Google Assistant.
Customizable, tablet-like console.
Amazing customer service.
CONS
Weak transmission signal.
Small numbers.
---
5. LFF Weather Stations Wireless Indoor Outdoor 
If you're a newbie in the world of weather, LFF is an excellent device to start your meteorological aspirations. Its sensors can monitor basic weather conditions like temperature, humidity, current weather, pressure trends, and moon phases. 
This affordable weather station promises a high degree of accuracy to give a precise weather forecast. There are also modern-looking forecast icons for sunny, slightly cloudy, rainy, snowy, and more in LFF Weather Station. Connect it to three outdoor sensors for simultaneous monitoring.
But the package only comes with one sensor. You can purchase the two separately so you may keep track of the temperature and humidity of different parts of your house. You have two options for LFF's power source. Use a fresh battery set or plug the DC adaptor.
Unlike all-in-one sensor suites, LFF doesn't have a rain gauge to measure rainfall amounts. There's also no information about wind direction, wind speed, and barometric pressure. 
PROS
Modern-looking display.
Easy to understand for beginners.
CONS
Short transmission range of 5-10 feet.
No information on temperature and humidity range.
Offers only introductory readings.
---
6. Netatmo Weather Station
The Netatmo Weather Station is an exceptional choice for a modern, Alexa-compatible weather station. You can access your data wherever you are as long as you have a mobile device or computer with you. You can also perform a voice command to obtain the readings.
Most user-friendly weather stations only have temperature and humidity sensors. But Netatmo gives accurate barometric pressure and other data for a complete weather report. The catch is, you need to pay extra.
The device also sends you alerts about your indoor pollution levels through its CO2 sensors. Its ability to ensure a healthy environment is why you'll often see Netatmo in baby rooms and bedrooms.
You need to use your phone to view the data because the weather station has no screen. With just one click on the application, you'll see graphs of high and low temperatures over the month. You can zoom in and out for specific dates. Netatmo also does a great job regarding the accuracy of readings and forecasts. You can manage your garden more efficiently and plan outdoor activities because you are ahead of the game!
PROS
The outdoor module is waterproof.
Gorgeous design.
Intuitive smartphone application.
Alexa-compatible.
CONS
Required fees for additional measurements. 
Slow app refresh rate.
No digital display
---
7. Davis Instruments Vantage Vue Wireless Weather Station 6250
The Vantage Vue Weather Station 6250 is a more affordable option if you can't afford the Vantage Pro2. It's just as accurate and reliable with all the necessary sensors for optimal readings. 
Davis Instruments 6250 is also easier to set up than its newer models. There's no need to connect to WiFi since data will directly displayed to a console like typical weather stations. It features a user-friendly keypad that glows in the dark for usability. 
This wireless weather station has an impressive 2.5-second update rate for wind speed. That's ten times faster than your regular weather station! The other sensors refresh every 10 seconds for the wind chill and heat index. 
It helps you monitor a wide array of weather conditions, such as dew point, temperature, humidity, and barometric pressure. You can also obtain information about wind speed direction, and rainfall.
The console is backlit and readable, but the design is plain and traditional. Experts may find the display interesting, but beginners should look for a more intuitive device. 
PROS
Broad temperature range.
Durable construction.
Quick refresh rate. 
CONS
No WiFi connectivity.
Too expensive for beginners.
Outdated display.
---
8. Logia 5-in-1 WiFi Weather Station with Solar Panel
Logia is an accurate weather station that can give precise wind speed and direction, rainfall, humidity, and temperature readings. At a reasonable price, it lets you connect to the WiFi to get actual weather information which you can store for 500 days. 
The LCD screen is easy to mount, but the 5-in-1 sensor suite requires an advanced setup. After attaching the sensor to an elevated pole, you can sync the system with other servers. Then, download Weather Underground and Weathercloud to view your historical stats from your phone. 
The LCD console is colored for maximum readability. You'll be able to read the digits at night because of the dimmable backlight. It runs on batteries or a plug for continuous tracking.
Any weather enthusiast can't go wrong with Logia. It's accurate, WiFi-enabled, and compatible with Weather Underground. Most importantly, it's an affordable, all-in-one weather station.
PROS
All-in-one weather sensor.
Offers high and low alerts for temperature and weather.
Supports web and mobile app connectivity. 
Great price.
CONS
Difficult to set up.
Low sensor distance of 450 feet. 
Small LED console
---
In Conclusion
There are several weather stations with different features out there. But only one may cater to your personal and professional needs. AcuRite Iris is your best option for a weather station, followed by La Crosse Technology and Sainlogic. 
AcuRite Iris has five sensors for complete weather variables, whereas La Crosse only monitors the temperature and humidity. The Iris model also works well for beginners and professionals because of its user-friendly display compared to Sainlogic. 
Overall, AcuRite does a solid job at providing barometric pressure, humidity, temperature, wind speed, and direction readings. It has the accuracy and wireless features that every weather station in the modern day should have.
Which weather station are you getting? Let us know in the comments below. And for more helpful tips, check out our guide to the best RV pet temperature monitors. 
Last update on 2023-12-06 / Affiliate links / Images from Amazon Product Advertising API