There are many reports on battery-operated weather station users losing their data when the power runs out. If you don't want to fall victim, it's time to switch to a solar-powered weather station.
I have six of the best solar-powered weather stations for you. Stick them under the sun, and you'll be able to track the weather without electricity or charging! Consider these recommendations now for a free and convenient way to monitor the climate. 
Comparison Table of The 6 Best Solar Powered Weather Stations
What is a Solar-Powered Weather Station?
A solar-powered weather station is simply a weather station that runs on solar panels. The remote sensors in wireless weather stations typically use solar power systems or batteries. But the latter depletes quickly and will need replacement after about six months. This weather station type has a solar panel for the sensors to work. The battery pack only works when the sun is already down. But some devices use a capacitor to discharge during the evening and power up the sensors. 
With a solar-powered unit, you don't need to worry about the power draining when you need your weather station the most. Unlike battery-powered devices, weather stations with solar power systems do not lose your data. They also don't completely reset. In short, solar-powered weather systems can provide energy for a long time. Most of them contain backup batteries in case the panels do not work. The only downside is that you need to replace the solar panels after a few years.
You may also use rechargeable lithium batteries for cold temperatures. They last longer than alkaline batteries and can withstand cold winter months. However, solar-powered weather stations may not be efficient if you place your unit in a shaded location. Or if you live in an area that is prone to cloudy days. 
Benefits of Using a Solar-Powered Weather Station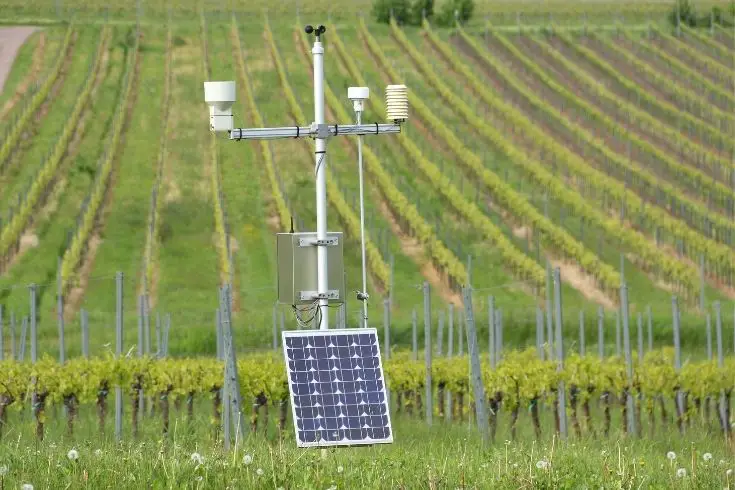 The most significant benefit of using a solar-powered weather station is that you don't need to check the battery life. It doesn't need batteries anymore, although most models have a compartment for backup if the solar panels don't work.
Switching from a regular weather station to a solar-powered weather station lets you step up your game in observing current conditions. This advanced device does all the mandatory weather station tasks like checking the temperature, humidity, rainfall, pressure, and more. 
Another advantage of using a solar-powered weather station is that you don't need electricity for it to work. Just keep the solar panels exposed to sunlight, and it will operate seamlessly. And although they are expensive, these weather stations are a one-time investment. 
It performs just as great as other weather stations without you having to pay electric charges per month.
There's a wide range of solar-powered weather stations you can choose. You can get a 5-in-1 sensor for home and personal use or a complete weather station for professional service. But before purchasing, learn the key features of a good weather station.
Key Features of the Best Solar-Powered Weather Station
There are several solar-powered weather stations, and each of them has different features for varying needs. Here are some critical considerations to keep in mind before buying a solar-powered weather station.
Functions
Ask yourself why you're getting a weather station. Do you need a 5-in-1 sensor for your gardening activities? Or do you need additional sensors for professional monitoring? Weather stations should have a temperature, humidity, wind speed, and direction sensor.
Some weather stations include extra air pressure, rainfall, UV, soil, and leaf features. Others can even monitor ocean tides. Always consider your priorities before getting a weather instrument. 
Accuracy
The accuracy is probably the most vital factor to consider when getting a weather station. The placement of your weather station affects your device's precision, along with the obstructions in the surroundings.
For example, thermometers and hygrometers should only be 4-6 feet above the ground. But anemometers should be 32-33 feet above the ground. If you have an all-in-one sensor suite, placing it at a compromise height will lead to unreliable readings.
Durability
Outdoor sensors should be able to withstand harsh elements. Even if it's directly exposed to sunlight, or if it gets wet, your weather station should continue working. 
The display console should also be made of sturdy materials. The console should last long whether you mount it on the wall or let it stand
Display
The digital console that comes with your sensor suite should provide all the necessary information at one look. The values should be large and contrasting with the background for readability. 
The screen itself should also be large so that you can read the data even from afar. The forecast is typically exhibited through icons. For example, a sun indicates a sunny day, while raindrops indicate a rainy day. There should also be arrows to show if the temperature is rising or falling.
Frequency of Updating
The refresh rate can also influence the accuracy of your weather readings. For example, if the frequency of updating is only 5 minutes, the values on your screen may be late. 
Weather conditions change every second, so pick one with real-time information. And you don't want a delay in information if you're monitoring severe conditions. 
Premium quality weather stations update every two to three seconds. But if the frequency is not a crucial factor for you, try weather stations that update every 10 to 15 seconds. Basic models update the metrics every 30 seconds to 1 minute. 
Wide Transmission Tange
You should also choose a weather station with a wide transmission range. Physical surroundings and obstructions affect wireless weather stations. It's best to get a weather station with a distance of 300 or 1000 feet. 
This range will allow you to mount the weather station in the best position without worrying about your console. You can also pick a model that comes with wireless repeaters. These tools help the user extend the range of transmission. 
Alarms
Another vital part of the weather station is the alarm. The console or your phone should notify you about changes in weather conditions. You should also be able to customize the warnings based on your needs.
Some weather stations offer alarms in single, dual, and multiple modes. But the best ones provide different kinds of alarms for different weather conditions. 
Remote Access
Consider whether you want to view the readings of your weather station from your smartphone or not. If you do, you should get a WiFi-based weather instrument. And it should have a mobile application for you to access the information quickly. 
Some mobile applications let you view present and past weather conditions for comparison. You can also customize your home weather station alerts depending on your needs.
Top 6 Solar-Powered Weather Station Reviews
Here are the six top-rated weather stations, a list of their features, and what I like and don't like about them. 
1. ProWeatherStation TP3000WC Weather Station
First on the list is the ProWeatherStation TP3000WC, which has an advanced sensor technology for all the essential weather readings. This unit can give historical data on temperature, humidity, wind speed and direction, and barometric pressure at a reasonable price. The 7-in-one sensor array helps you keep an eye on the elements. You can also automatically upload your data to Weather Cloud or Weather Underground through WiFi.
TP3000WC features a backlit base station that logs 4080 data points. It will also let you know if your storage is getting full through the memory meter on display. There is also an internet clock to provide absolute accuracy. This device includes a 5V power adapter for the base station. And while the weather station is solar-powered, it also requires 2AA batteries as a backup power source. You can mount it up to 100m or 330 feet away from the sensor array.
Overall, ProWeatherStation is the perfect home weather station complete with the essential sensors you need. 
PROS
It has additional sensors that provide reliable measurements. 
WiFi connectivity for Weather Underground and Weather Cloud.
Installation takes less than 15 minutes.
Solar-powered with backup batteries. 
CONS
The solar-powered unit is poorly-constructed.
The display console is hard to read.
---
2. La Crosse Technology S81120-INT Wireless Combo Weather Station
This affordable weather station can give beginners some basic weather readings at a bargain price. La Crosse S81120-INT includes a temperature sensor, humidity sensor, and a sensor for wind speed and direction. The Breeze Sensor provides accurate weather readings so you can make informed decisions about your day. The modern weather station also has a button cell battery to recharge with the solar panel. 
LaCrosse is very affordable for its advanced features. The brand competitively boasts of its 330 feet transmission range like professional weather stations. It includes a power adapter, but you need 2AA batteries for backup. S81120-INT may not provide professional metrics of advanced weather stations, but it's fully customizable with dynamic forecast icons. It also has a versatile bracket so you can monitor your home and backyard weather conditions. 
The digital display of the Breeze Sensor is impressive. It has an easy-to-read LCD color display to check all alerts and information. The dynamic compass rose also shows cardinal wind direction and wind trend. 
PROS
Provides customizable alerts.
Includes all the mounting tools needed for the Breeze Sensor. 
One of the most affordable weather stations. 
Add-on sensors are available.
CONS
Limited weather variables.
---
3. AcuRite Atlas 01007M Weather Station
AcuRite Atlas' internet connectivity feature makes it a functional weather station for farming and other business purposes. The fantastic device lets you keep tabs on your livelihood. 
You can track your crops or other businesses 24/7 wherever you are with the AcuRite 01007M. You and other concerned people can download the mobile application to continuously monitor the temperature, wind speed, and other metrics.
Atlas by AcuRite offers accurate readings of lightning detection, rainfall, UV index, light intensity, and barometric pressure forecasting. You'll seldom find these weather variables in basic weather stations. 
This durable weather station can withstand extreme temperatures and harsh weather because of its materials. It also includes a console with high display quality. It's a full 7-inch touchscreen that provides data from the last 48 hours.
It also displays the measurements in graph form to quickly understand the data. When not in use, the HD display goes on sleep mode. But it can still provide alarms for severe weather observations.
Overall, AcuRite is a high-performing, better-quality weather station that comes with a price. But its impressive list of features makes the weather station worth the splurge. 
PROS
Extensive range of weather variables. 
Compatible with Weather Underground.
Has its own Smartphone application.
Easy-to-read display with customizable alerts.
---
4. LaCrosse Technology V40A-PRO-INT Professional Weather Center
LaCrosse's WiFi weather station provides accurate weather monitoring that hosts all essential features for observing current weather conditions. It has a brilliant, easy-to-read LCD color display with forecast icons and personalized real-time values. The wireless V40-PRO-INT is an all-in-one sensor suite. It has spinning wind cups and a wind vane to measure wind speed and direction, along with a thermometer-hygrometer. But you have to purchase additional sensors for comprehensive monitoring.
Some weather stations have unique connectivity features but compromise their functionality. You can get the best of both worlds with LaCrosse since you can access data right at your fingertips. Just download the LaCrosse View application for weather alerts and notifications. Another nice feature of the Lacrosse V40A-PRO-INT is its unique sensor ID. Take advantage of the tracking application if you can't find your sensors after a storm.
This reliable weather station is an excellent option for weather enthusiasts looking for WiFi features for their devices. Receive historical charts and images, customize safe levels, and do more with the app!
PROS
Accurate unit with a user-friendly mobile application.
Has a separate temperature display.
Made of durable materials. 
CONS
The mobile application has bugs. 
Additional sensors are sold separately.
---
5. Davis Instruments 6152 VantagePro2
The Davis Instruments 6152 VantagePro2 is the most incredible weather station you can get with complete weather variables. This near-professional grade weather instrument has sensors for solar radiations, soil, and leaf, which most weather stations don't have.
You can enclose the temperature and humidity sensor in a radiation shield to avoid damage from direct sunlight. You can also enhance your VantagePro2 to a model with a 24-hour fan-aspirated radiation shield for utmost accuracy.
There is no exaggeration that Davis 6152 is the most precise weather station. Its power of accuracy comes from its complex weather variables. Unlike others, this device is compatible with other weather stations within a radius of 300 meters for average readings. 
You get an accurate thermometer and hygrometer sensors, an anemometer, and a rain collector. There is an internal battery power feature, but it's mainly solar-powered. The VantagePro2 updates every 2.5 seconds while receiving information from 8 transmitting stations. That's ten times faster than other weather station models! 
PROS
Complete, high-end weather station.
Most accurate weather station. 
Data can display in days, months, and years.
Expandable with other sensors. 
Includes a radiation shield.
CONS
Charges extra for internet connection.
---
6. ECOWITT HP3501 TFT Weather Station
The ECOWITT HP3501 is a WiFi weather station that delivers versatile but straightforward functionality. It's a great choice if you only need general weather measurements without 100% accuracy. 
The HP3501 includes wireless connectivity, so you can observe the conditions remotely through a smartphone application or PC software. This model displays everything you need whether you are obtaining weather data for home use, business, or sports. 
This weather station from ECOWITT has a beautiful screen display with large icons and numbers. You'll be able to read the weather from afar because of the excellent color contrast. 
I think it's the most versatile weather station because it has light sensors, a thermometer, and a hygrometer. A an affordable price it can also detect wind chills, dew point, and UV index. 
PROS
It has various sensors for different weather aspects.
CONS
The backup battery needs replacing twice a year. 
---
In Conclusion
Solar-powered weather stations are cost-effective, easy to use, and reliable. Of the six weather stations on the list, ProWeatherStation TP3000WC is the most recommended. 
It offers more accurate readings compared to ECOWITT without being as expensive as Davis VantagePro2. It is also easy to set up and has WiFi connectivity. 
ProWeatherStation passed the checklist of the essential features to look for in a solar-powered weather station. It may not be as advanced as others, but it monitors all the necessary weather variables at a cheap price.
Looking for some more great tips like this? Check out our guide to solar highways! 
Last update on 2023-09-28 / Affiliate links / Images from Amazon Product Advertising API