Vornado is a brand known for energy technology, starting with fans and air circulators then later entering into the market of humidifiers.
The brand was the brainchild of aerodynamics and energy-efficient design, created over the span of 3 decades and changing the industry of home comfort for good.
The company's products have always been well-received since the 1940s, and their humidifiers are top-notch.
The best Vornado humidifiers provide a combination of innovative design and technology so you can stay comfortable in your home and feel like the device blends into their surroundings instead of being an eyesore.
With the work Vornado has done to create the optimum design to keep the air in your home humid and comfortable, how do you select the best Vornado humidifier for your house or room?
You first have to know a little more about the company, as well as the construction of their humidifiers. Then, you can make a more informed decision as to which product will please you most.
Best Vornado Humidifier Comparisons
Why Trust Vornado?
Vornado was born from airplane design. In the 1930s, as the world longed to fly faster and higher, the Power Vortex design was patented to achieve this feat. Using the Vortex and 'tornado' aerodynamics, the Vornado plane was born.
During the next decade, this design crept into another industry – the world of fans – and in 1945, with some tweaks to the design, the first Vornado fan was created.
The company continued to grow and innovate, adding other products to its line, including humidifiers, all with the principle in mind that you should constantly be comfortable in your own home, all year long, regardless of the temperature or atmosphere outside. This led to the creation of forward-thinking products and excellent customer service.
And in order to set the customer's mind at ease, Vornado added another layer of protection – satisfaction guarantees on their products. So, when you buy the best Vornado humidifier for your situation, you'll also get the backing of a long-standing, progressive company with your comfort and happiness in mind. That sort of reputation speaks to the trust you can put in the Vornado name.
What Makes the Best Vornado Humidifiers the Best?

Vornado offers humidifiers in a variety of sizes to moisten the air in any size room, with personalized controls that give you the power to determine just what you need. Among the best of the best, you'll find your choice of humidifier technologies, as well as tons of energy-saving properties, including a specialized motor to drive the devices while using a fraction of the power of other products.
You'll also appreciate that the pricing on Vornado humidifiers is always reasonable, the design blends into your surroundings rather than interrupting the cohesiveness of your décor, and the warranties are incredible and thorough.
Ultrasonic Technology
Vornado offers a range of technologies in its humidifiers, including ultrasonic technology. Ultrasonic is one of the latest humidifying technologies entering the marketplace, and it removes some of the elements that didn't mesh well with some customers' sensibilities, such as the noisy impeller, warm mist, and evaporative types.
Ultrasonic humidifiers use high-frequency vibrations leveled against a small metal plate that turn droplets of water into millions of particles of fine mist. This mist is then expelled into the air to moisten your environment. Because ultrasonic humidifiers operate very quietly, they are ideal in any area, such as living and family rooms but also in bedrooms, nurseries, and children's rooms. You can keep one in the living or family rooms. In addition, you save on maintenance because you won't need to replace a wick or filter in an ultrasonic humidifier.
Evaporative
An evaporative humidifier is an older, simpler technology, but it's extremely effective. These devices are sometimes called wick humidifiers because they use a fan, wick, and reservoir to humidify the air.
An internal fan pulls air into the unit with a fan, which then blows across a wick filter that has been saturated with water from the reservoir. The moving air absorbs this water, creating small particles that are then blown into the room to add moisture to the surroundings.
One benefit of evaporative technology is that it regulates itself. The wick will only absorb a certain amount of water, depending on the ambient moisture in the room, so you don't have to worry about the air becoming too damp or remaining too dry. Most evaporative humidifiers produce only cool mist, but some employ warm mist technology that aids in keeping the environment more comfortable in cooler weather.
Steam and Vaporizers
A steam humidifier, or vaporizer, uses heat to create moisture. The working parts include a heating element of some kind and sometimes a fan. The heating element boils the water in the reservoir, creating steam that rises and permeates the air for greater humidity. Because steam automatically rises and disperses, a fan isn't required, though many vaporizers incorporate one in order to help circulate the moisture throughout the room faster and more evenly.
Steam vaporizers need to be carefully watched because the heating element can lead to burns. They also need to be located somewhere they won't lead to spills since the hot water can also burn someone. However, the benefits of a vaporizer are well known, aiding in sinus trouble, allergies, asthma, and colds. They can also help warm a space a couple of degrees when the winter drives additional chill into the environment.
The Best Vornado Humidifier Features
Each humidifier comes with its own features and nuances, and several of those offered in the best Vornado humidifiers are extremely beneficial in various ways, not the least of which are convenience, savings, and health. Here are the most beneficial features you can find in Vornado humidifiers.
Energy Smart
Vornado products use Energy Smart technology, which reduces the costs of operation. That's because they use brushless DC motors to run their products, which are configured to require far less power than the average engine.
According to the company, you will save up to 90 percent compared to the operation of other humidifiers. However, unlike other energy-saving models, these motors retain the high performance you expect from a model that isn't so efficient. And these motors are so well designed that Vornado guaranteed them with a full 10-year warranty.
Whole Room Coverage
Vornado humidifiers offer the benefit of covering an entire room with ease. The tanks are large enough to keep them running longer without refilling them, and you have multiple controls to further extend the runtime as well. In addition, the models are configured for proper circulation throughout specific room sizes to ensure the moisture isn't too localized.
Warm and Cool Mist
Some companies focus on warm or cool mist options, but Vornado offers both, vaporizers (steam humidifiers) as well as evaporative and ultrasonic humidifiers. Having the choice of which type of humidifier will better solve your problem or fit your application to provide year-round comfort helps Vornado fulfill its goal for you.
Precise Controls
We all have our preferences for atmosphere, and no one wants a room to feel too dry or too damp. At the same time, you don't want to hassle with resetting your humidifier several times a day. Vornado humidifiers offer precise control settings, so you never have to worry about changing them or having the room cause you discomfort.
Top 5 Vornado Humidifier Reviews
Vornado UH100 Ultrasonic Humidifier
The Vornado UH100 Ultrasonic Humidifier (from Amazon) can bring the right humidity levels back to your room in no time. No matter how large your space is, its 1-gallon capacity fills the entire room with a 2-gallon output after 24 hours. The excellent humidifier is equipped with a built-in humidistat for you to adjust your comfort levels.
Instead of a nozzle, it is assisted by a fan with three settings: high, low, and auto. Despite numerous customer complaints about its construction, Vornado claims to have a 5-year warranty if you're not satisfied with the product.
Pros
Large coverage of 600 square feet
2-gallon tank capacity
Has three fan settings and other button controls
Fan-assisted
Auto shutoff
Cons
Too big for small rooms
Not as durable as other models
---
Vornado Ultra3 Ultrasonic Humidifier
Vornado Ultra3 (from Amazon) is a modern-looking ultrasonic humidifier with a lowkey design even if it has a big size. It features a 1-gallon tank that can cover a maximum of 60 square feet. Like other Vornado models, it has the famous Vortex Action, a fan that distributes the mist more effectively than a nozzle.
It's a premium humidifier that uses a mineral cartridge to avoid buildup. Vornado is ideal for individuals who are looking for an ultrasonic humidifier for a huge room. However, it can be difficult to clean and maintain compared to other Vornado models.
Pros
Wide coverage of up to 600 square feet for the room
1-gallon tank capacity
Discreet design
The cartridge reduces mineral buildup
Cons
White dust production
Expensive
Difficult to clean
No automatic shutoff
---
Vornado Evap40 4 Gallon Evaporative Humidifier
The Vornado Evap40 4 Gallon Evaporative Humidifier incorporates long-running operation and large area coverage, so you don't have to worry about refills as often or having multiple units to cover a space. With the Vortex circulation technology incorporated into the unit, you can cover up to 1,000 square feet with this single humidifier. The fan speed is variable, so you can choose to operate at low, medium, or high to fight off the extremely dry air.
In addition, the humidifier utilizes a humidistat that is adjustable, so you can set a particular moisture level, and it will automatically detect moisture in the air and adjust accordingly to avoid making your environment too damp or leaving it too dry. The unit has easy-to-fill, spill proof, airlock water tanks for hassle-free use, and on high, the 4-gallon output Lasts up to 24 hours, meaning you have to concern yourself with fewer refills. It's easy to clean, and it's backed by a 5-year limited warranty to put your mind at ease. Considering the volume of output and the ease of control, the humidifier is also economically priced.
If you want to cover an entire apartment or have a large family room that is very dry, this evaporative humidifier may be exactly what you're looking for.
Pros
Large capacity for longer run time
Large coverage area for large spaces
Humidistat and variable controls
Cons
The larger unit takes up more space
May have to replace the filter frequently
---
Vornado Whole Room Humidifier with SimpleTank
The Vornado EV100 1 Gallon Evaporative Whole Room Humidifier has a SimpleTank system – a clear tank that is not only easy to carry and fill but also simple to clean, making this particular humidifier extremely convenient. Its 1-gallon size means it's easily portable but also covers an area of up to 300 square feet for a full 24 hours, so you can rest assured that you'll negate the dryness of your environment without having to refill it frequently.
The Vortex action is also incorporated into this humidifier and circulates the humidity throughout the entire space for an even distribution of moisture. The push button controls are easy to understand and use, and you can set the fan speed to low, high, or auto to keep your room humidified to your liking. You also have an electronic humidistat you can set so you don't have to worry about the room getting overly damp. In addition, the unit comes with the Vornado 5-year limited warranty to assure your safety and peace of mind in purchasing the product.
If you're looking to incorporate a humidifier into a bedroom or perhaps a nursery, this particular unit is sized right with simple controls to set it and forget it.
Pros
Easy to clean and fill with SimpleTank
Variable speeds and auto-setting
Vortex circulation keeps the room evenly moist
Cons
The smaller unit has less reach
Construction less sturdy than similar models
---
Vornado EVDC500 Evaporative Humidifier with Automatic Shutoff
The Vornado EVDC500 Energy Smart 2 Gallon Evaporative Humidifier (from Amazon) utilizes an automatic shut-off feature to ensure you never run the unit with an empty tank, something that can cause the humidifier to fail.
It's also an energy-saving feature, but certainly not the only one. This model uses the Energy Smart DC motor that uses up to 90 percent less energy than standard motors, saving you a bundle on operation while still putting out the same amount of power.
This model uses the Vortex circulation technology to cover up to 1,000 square feet of space, so you can use it for an entire apartment or a very large room in any home. There are 2 SimpleTank systems, 1 gallon each, included in this humidifier, making it easier to fill and clean and assuring you have an output for at least 24 hours without having to refill.
You can choose from multiple fan speeds, and you can use an auto humidity control to set at 40 or 60 percent or continuous output. The unit itself has a 5-year hassle-free warranty, and the motor is covered by a 10-year warranty.
If you're interested in the most energy-efficient humidifier that will cover a large space, this evaporative humidifier is perhaps one of the best available.
Pros
Two tanks for long run time and easy fill
Variable humidity levels control
Energy-efficient motor saves up to 90% of power
Cons
May leak over time
Fan is louder than similar models
---
Conclusion
When it comes to humidifiers, Vornado has some of the best technology around. Vornado humidifiers offer you variable, easy-to-use controls and cover large areas with ease. If you're looking to outfit a single room and regulate output of moisture automatically, you'll probably prefer something like the Vornado EV100 1 Gallon Evaporative Whole Room Humidifier, which is a bit smaller than many of the units offered by this manufacturer but blends readily into its surroundings and runs for a long time without a refill, while also allowing for easy cleaning and refill.
For longer operation, you might consider the Vornado Evap40 4 Gallon Evaporative Humidifier, with a huge tank capacity and the ability to turn down the speed to conserve water and make it last several additional hours so you don't have to worry about running out of water anytime soon.
However, if you're looking for the most energy-efficient model with a long run time, simple controls and care, and great savings on operation over time, the best model to use is the Vornado EVDC500 Energy Smart 2 Gallon Evaporative Humidifier Vornado EVDC500 Energy Smart 2 Gallon Evaporative Humidifier with the smart shut off feature and the DC Energy Smart DC motor that uses up to 90 percent less energy, complete with an easy to read LED display and a 10-year warranty on the energy-efficient motor.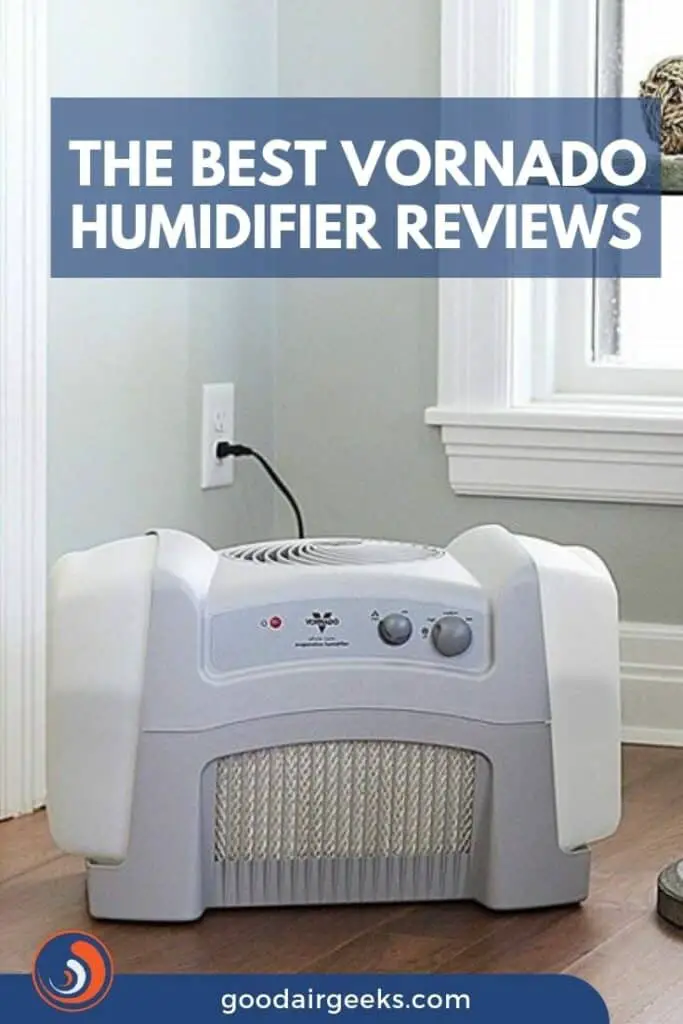 Last update on 2023-12-06 / Affiliate links / Images from Amazon Product Advertising API