Does your home have excess moisture? Do you find there is an unpleasant, damp smell in the air? If you're suffering from too much moisture in your home, then you might be looking for a new dehumidifier.
There are hundreds of models and styles of dehumidifiers on the market so it can seem overwhelming. You might be looking for an appliance for your home, basement, or garage. These three areas each need different specifications which are explained in our handy buyer's guide that focuses on the popular brand Perfect Aire.
But which is the best Perfect Aire dehumidifier? We've set out to give you all the information you need before making your purchase and give the most detailed comparison. These Perfect Aire dehumidifier reviews set out the details, pros, and cons of different models so you can make an informed decision.
Best Perfect Aire Dehumidifier Comparisons
Why Do You Need a Dehumidifier?
If you've got too much humidity in your home, a dehumidifier is a perfect way to bring moisture levels to a comfortable level. You might find you have mold growing on walls or ceilings which is not only unsightly but can cause health problems. If the humidity level in your home is above 50% you are at risk of developing these problems.
A Perfect Aire dehumidifier will bring your humidity level down to a comfortable level – protecting your furniture and stopping you from experiencing health problems like asthma.
What You Need to Consider When Buying the Best Perfect Aire Dehumidifier
The first thing you need to consider when buying a dehumidifier is the size of the room you need to use it in. You can measure your room and calculate what capacity dehumidifier you need to use. Perfect Aire dehumidifiers can cover either 3,000 square feet or 4,500 square feet. If you have a room that is around 4,400 for example, it would be better to get the larger model.
Guarantees and customer service
Perfect Aire is a company that focuses on customer service. Their models come with a one-year guarantee which is something you should look for when investing in a new dehumidifier. This means if you have any problems with the product in the first 12 months, you can call the company for help and support.
Features and Modes
Perfect Aire dehumidifiers come with three operating modes. They can collect the water in an internal reservoir which needs emptying regularly, a hose can take the water directly to a drain or a pump can push the water from the unit through a longer hose. The dehumidifier you need depends on whether you have an accessible drain or sink to run the hose to.
You need to work out which model suits your home best before buying your Perfect Aire dehumidifier.
Room Temp
Another thing to think about is the temperature of the room you will be using the dehumidifier in. Perfect Aire dehumidifiers work down to a temperature of 41 degrees so they will be suitable for use in cold areas like basements or garages.
These models also come with anti defrost functions which means that even if the coils inside your dehumidifier get too cold and start to ice up, the Perfect Aire dehumidifier will automatically get rid of the icy build-up inside.
How To Get The Most From Your Perfect Aire Dehumidifier
To make sure your Perfect Aire dehumidifier works as well as it can, make sure you fix it somewhere where it has enough room around it so the airflow is unrestricted. This means leaving about a six to eight-inch gap all the way around the unit.
These models have a vent on the front and side which needs to be kept away from walls, furniture, or anything that may block it.
Check Your House
Before setting up your Perfect Aire dehumidifier, make sure all your doors and windows are sealed to avoid pulling moisture in from the outside.
These particular models have two vents which may become blocked if there is too much dust or debris in the room. Vacuum the room and it will stop your dehumidifier from getting clogged as well as help with any allergies or breathing difficulties.
Let's Take a Look at a Few Models, Shall We?
Perfect Aire 2PFD35 35-Pint Dehumidifier
The Perfect Aire 35-pint dehumidifier (from Amazon) is able to clear a 3000-square-foot room of 35 pints of moisture in any 24-hour period. It is Energy Star rated to cut down on electricity bills and runs at 6.9 amps, 720 watts. This dehumidifier uses eco-friendly refrigerant and comes with two power levels so you can adjust it to suit your environment. The unit can work at lower temperatures, down to 41 degrees, so will work in a basement, garage, or other low-temperature area of your home.
This Perfect Aire dehumidifier also has an automatic shut-off if the water reservoir becomes too full and it can restart if the power is cut. A 24-hour timer means you can set it to work overnight if your energy is cheaper and the easy access bucket means you can easily empty it when it becomes full. The direct-to-drain hose means you don't have to empty the unit manually, just hook it up to a nearby drain and it will operate continuously. Added extras include a check filter indicator and a water level window to check the amount it is collecting. Read more in our Perfect Aire 70-pint dehumidifier review below.
Pros
Covers a large area
Compact design
Cons
Water bucket difficult to empty
Quite loud
---
Perfect Aire 2PFD50
The Perfect Aire 50-pint dehumidifier (also from Amazon) is perfect for medium-sized spaces as it works in an area up to 4500 square feet. The Energy Star-rated model uses an eco-friendly refrigerant and has a built-in pump to expel water quickly and efficiently. This unit has two power levels and can operate down to 41 degrees. An automatic defrost function also ensures it doesn't ice over and stop working. The dehumidifier has an automatic shut-off if the water reservoir gets too full and the bucket itself has a carrying handle for ease of emptying. The dehumidifier can be used with or without the pump and hose attachment. This means it is totally portable and can be used in any room. A water level window lets you know how much water is in the 12.7-pint collection bucket if you are using that mode and the unit has a side exhaust. The fan cycles off just after the compressor cycles off.
Pros
Cheaper model
Washable filter
Cons
Emits heat
Can only cover an area of up to 3,000 square feet
---
Conclusion
So to sum up, the Perfect Aire model you choose for your home really depends on capacity. If you have a large space, choose the 50-pint model but if you have a smaller area, then the 35-pint unit will be the best Perfect Aire dehumidifier for your home. This is why measuring the space you have and making sure you know how much power you need is very important.
There isn't too much difference between the two models apart from price and capacity so those should be the two most important things you take away from these Perfect Aire dehumidifier reviews.
Both units work in lower temperatures than standard models and would be suitable for your home, garage, or basement. Feel free to comment and share your thoughts!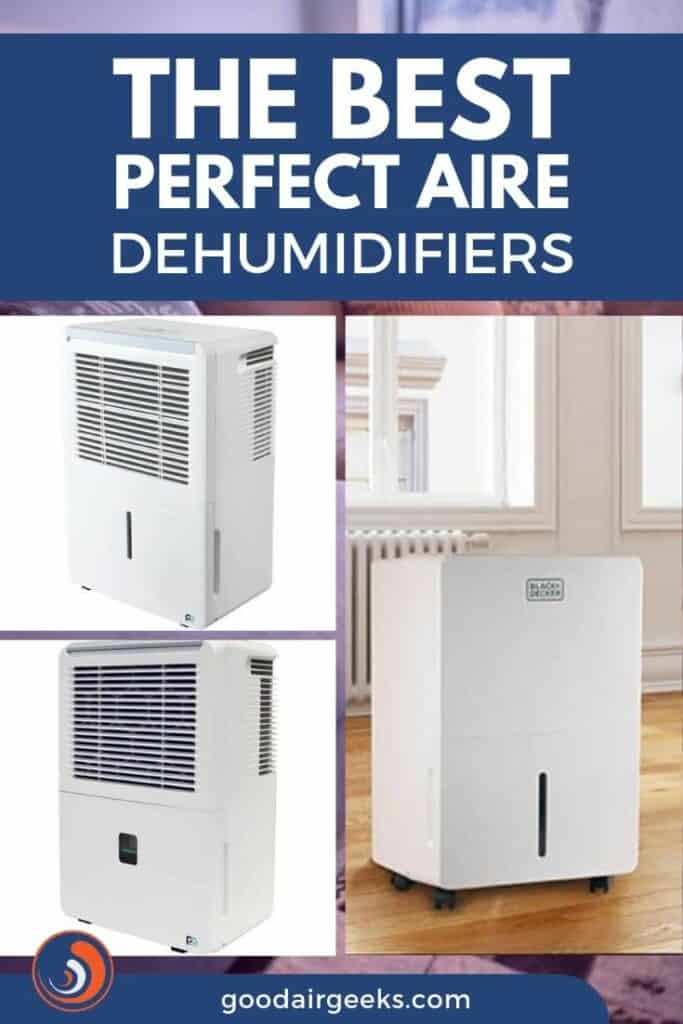 Last update on 2023-09-28 / Affiliate links / Images from Amazon Product Advertising API