One of the biggest brands in the wellness product space, HoMedics, has been releasing humidifiers and other quality air products for years, and they are considered one of the best options to turn to for your at-home wellness products.
If you suffer from a stuffy nose, dry skin, or even annoying static electricity in your home, it's needless. A high-quality humidifier will combat all of the symptoms of dry air in your house.
You may have already decided on HoMedics as the brand you trust and want, but how do you choose the best HoMedics humidifier?
This guide will compare the various features of humidifiers and types of humidifiers, and then you can decide which one is right for you.
And if you've never heard of HoMedics, or you aren't sure about the brand, you'll get a little information there, too. Be sure to read through the HoMedics humidifier reviews, too, so you can see how others just like you felt about each model.
Best HoMedics Humidifier Comparisons
Why Trust HoMedics?
Since the late 1980s, HoMedics has been working toward bettering the lives of consumers through its products.
The company started with a strong foothold in the massage product industry, but now it offers a variety of home electronics and environment products.
In addition to the massagers the brand offers, it also branched out into air purifiers, personal air conditioners, sound machines, and much more.
Perhaps the most important part to you, the consumer, beyond the quality of the product, is HoMedics' commitment to customer satisfaction.
Most of the products, including humidifiers, come with a two-year warranty, and a 30-day return offer.
Even if you just have questions about your HoMedics humidifier, you can contact HoMedics' customer support team to get help.
What Makes HoMedics Humidifiers So Good?
Among the cream of the crop of HoMedics humidifiers are personal humidifiers that can travel with you, large units that you can keep in an open area of your home to effectively put moisture into a couple of rooms, and some that let you choose between warm or cool mist humidity.
All the HoMedics humidifiers are reasonably priced for what they do and what you get. As with anything, you can expect to pay a bit more for a unit that features more technology, or newer technology.
Ultrasonic Technology
You might notice that every single humidifier on this best-of list uses ultrasonic technology. There are good reasons for that.
Ultrasonic is the latest humidifying technology, and it removes some of the annoyances of older technologies, such as impellers, warm mist, and evaporative types.
Ultrasonic humidifiers use high-frequency vibrations against a small metal plate.
Those little vibrations turn water drops into the mist, which is then expelled. There's very little sound created, so these machines work well in bedrooms, nurseries, and children's rooms.
You can keep one in living or family rooms, and not be interrupted by loud noises.
These humidifiers also require no wicks or filters. So, there's very little cost upkeep with this type of humidifier.
Comparing Ultrasonic with Other Types of Humidifiers
Let's take a quick look at the other humidifier technology to see how it compares to these HoMedics ultrasonic humidifiers.
It will help you decide whether HoMedics humidifiers are right for you.
Evaporative
These humidifiers are effective, and they can pump out a lot of humidity, but they also use a fan to do it, a wick that acts as a filter, or a filter that acts as a wick. The wick sits in a tank with water and absorbs it.
Then a fan blows over that filter, which creates evaporation, and then the mist is sent out to the top of the humidifier.
The biggest issue with this type of humidifier is that it's often too loud, especially when turned on high, to use in bedrooms when you're trying to sleep – one of the most important times to get a little extra humidity.
Also, you'll have to clean the filter regularly, and occasionally buy new filters and replace them.
---
Impeller
An impeller humidifier also works quite well to produce humidity for your home, and it has its own pros and cons.
A rotating disc sends water flying at a diffuser, which breaks down the water into a fine mist, which is the moisture that's added to your air.
The great thing about an impeller humidifier is that it typically won't leak or drip moisture around the unit itself.
Unfortunately, it also has the potential to spread bacteria and mold in the air in your home.
---
Warm Mist
As lovely as it sounds to have a warm mist humidifier providing you extra moisture to the air you breathe, the traditional way these humidifiers work can be problematic, especially if you have young children.
The units generally heat up to boil water, and the resulting steam is emitted, which is the humidity.
The benefit of these machines is that they can kill bacteria and viruses, so they're much cleaner than their counterparts. However, all humidifiers need regular cleanings.
---
HoMedics Features
Not all humidifiers are going to have the same features, and some of the features on the HoMedics machines are beneficial for some, or unnecessary for others. Here are the most common features you can find on these humidifiers.
Large Tank
A larger tank on a humidifier gives you two benefits: fewer refills and longer run time. There's one drawback to having a larger tank, of course, and that's when you refill it, you'll have to move it from one place to another, and it could be quite heavy.
Portability
Personal humidifiers are smaller in size, which makes them much easier to take with you when you're traveling. Some include small tanks, while others use bottled water. It's a feature you may want if you prefer to own a humidifier to-go.
Warm Mist
The option of having a warm or cool mist is beneficial during season changes.
So, use warm mist during the winter to help increase the temperature in the room where you have your humidifier, and stick to cool mist during summer to prevent any increase in temperature.
Dual Tanks
Having a large tank is great, but then it could be hard to move about when it's full, such as when you refill it.
With dual tanks, you can fill up one at a time, which makes it much easier to fill and move back and forth between the humidifier and sink.
Related Content: Steam Humidifier Vs Ultrasonic, which of the two is fit for you?
Top 5 HoMedics Humidifier Reviews
HoMedics Ultrasonic Humidifier – Personal Travel
Most humidifiers are meant to be used in a single room at home, but the HoMedics Personal Travel Ultrasonic Humidifier (from Amazon) is small enough to take with you anywhere else that you need a little extra moisture in the air.
Unlike most other humidifiers that require you to fill a tank with water, this one uses bottled water. It can take a 20-ounce bottle of water, which is typically the size.
Simply fit the bottle onto the humidifier, plug it in, and soon you'll be breathing better air.
As easy to use as this is, it's very small, and there's potential for leaks. Part of the reason for that could be user error, or it could have a design flaw.
Be sure you use a better-quality water bottle that screws into the unit securely – cheaper water bottles might have a harder time securing to the humidifier.
While this little humidifier is ideal for a small space of about 100 square feet in size, it could be too small for what you need.
If you're looking for a HoMedics humidifier that's smaller, portable and uses water bottles as tanks, this could be your ideal humidifier.
Pros
Portable
Uses bottled water
Includes travel bag
Easy to use
Cons
May leak
May be too small
---
Homedics Total Comfort Humidifier
Often, choosing a humidifier means you have to compromise, but with the HoMedics TotalComfort Warm and Cool Mist Ultrasonic Humidifier (from Amazon), you can get the best of both worlds.
It's ultrasonic, so you don't have to worry about fan noise, and you don't have to wait for the water to heat up and boil to create steam.
However, you can change the cool mist into a warm mist by pressing a button. Then the mist that's emitted is slightly warmed, which can help during colder months.
This humidifier works well in larger rooms, and it even does a great job in small houses to fill the whole place with humidity.
The dual tanks are easy to remove and fill, and it makes lugging the tanks back and forth from the sink much easier. The 1.7-gallon capacity can give you up to 80 hours of mist, but if you run it full-time on high, you're looking at more like 12 hours of run time.
This unit doesn't have fan noise, but you might notice gurgling or even a knocking sound on occasion, which could be a problem.
Also, it's a bit hard to clean the middle piece, so you might end up frustrated with keeping this model clean.
If you need a humidifier that's a bit larger for your space and gives you the option of cool or warm mist, then this could be a good choice for you.
Pros
The option of cool, warm mist
Dual tanks
Long runtime
Works well in large rooms
Easy to fill
Cons
May be noisy
Hard to clean
---
Homedics Cool Mist Oscillating Ultrasonic Humidifier
The HoMedics Cool Mist Oscillating Ultrasonic Humidifier is one of those machines that aren't too big or too small, so it works well for a medium-sized room.
It produces a fair amount of vapor with ultrasonic technology, so the unit is mostly quiet as it works. Plus, there's no need for filter replacements. You will need to clean this regularly, though.
The oscillating head makes this unit a little different from others on the market. As the mist is released, the top will spin slowly to spread the humidity throughout the room. You can stop it and position it directly where you want the humidity, though.
As quiet as ultrasonic humidifiers are, this one might be a bit noisy. The head that turns can make a clicking noise, and you might notice a gurgling or even a humming noise.
The mist is variable, which means you get to pick how much mist is emitted at once. The 1-gallon tank will run for up to 48 hours if you choose the lowest setting.
Be careful when filling this tank, as the whole unit is a bit fragile. The handle may break if you hold the tank by it. And if the tank drops, expect shattering.
If you're looking for an ultrasonic humidifier that's a just right size for a medium room, this one might work well for you.
Pros
Oscillating head
Optional nightlight
Variable mist
Easy to fill
Cons
A little noisy
Somewhat fragile
---
Homedics Cool Mist Ultrasonic Humidifier
The larger tank of the HoMedics Cool Mist Ultrasonic Humidifier means you won't have to refill it as often as a smaller one. This unit's tank holds 1.4 gallons, and it can run for up to 65 hours if you choose the lowest setting. The variable mist knob lets you choose from low to two medium levels to high. There's a nightlight included, as well, which makes this a good choice for a toddler's bedroom, if they happen to be scared of the dark. However, the base is a bit narrow for the wide unit, which means it could easily topple over and spill water everywhere.
The good news about this humidifier is that it offers effective humidity for your room and it doesn't require the purchase of filters.
You can add a demineralization filter or demineralization cartridge, which softens hard water and can reduce the white mist which is common in ultrasonic humidifiers.
Refilling the tank is easy, part in thanks to the sturdy handle at the top. This unit can be a bit noisy, so if you're sensitive to sound, then you might not be able to use this one in your bedroom.
If you want a medium-sized humidifier that is easy to clean and refill, this may be the humidifier for you.
Pros
Easy to clean
Strong handle
Variable mist
Easy to fill
Cons
Might be too noisy
Faulty design
---
Homedics Personal Ultrasonic Humidifier
Sometimes you just need a little extra moisture in your personal space, and that's where the HoMedics Personal Ultrasonic Humidifier comes in to play.
This little humidifier is about the size of a large apple, or a coffee mug, which means it can easily sit on your desk at work or home.
Plus, you can use a USB plug to power it, which is quite handy if you don't have an extra outlet available. It's also as easy to use as you would think. Just twist off the top and fill the tank, and it has a one-button operation.
The tank holds about 200 ml of water, which is just a little less than a cup. That amount of water should last you about five hours, so it means frequent refills if you need it to work all day.
It is a quiet little humidifier, too, so it shouldn't disturb office mates. This unit requires wicks/filters, which is odd because this isn't supposed to be evaporative, but it's still required.
One big issue with this tiny humidifier is that there are lots of reported defects, so be sure you test it thoroughly when you first get it.
If you need a tiny humidifier for your personal space, such as at your desk, then this could be an ideal choice for you.
Pros
Easy to use
Quiet
Easy to refill
Can run on USB
Cons
There might not be enough mist
Lots of defects reported
---
The Bottom Line
HoMedics has a lot of experience to back up its products and technology, and you benefit from that experience when you buy their products.
The best part about buying the best HoMedics humidifiers is that you know they're all using ultrasonic technology, so there shouldn't be any surprises about what you're getting, how to use it, or whether it's safe to use around your children.
Of course, not every humidifier can be the best. There is one stand-out that is the best HoMedic humidifier overall, and that title goes to Homedics TotalComfort Warm & Cool Mist Ultrasonic Humidifier.
The dual tanks make it so much easier to refill, especially because together they equal nearly 2 gallons of capacity. That large of a tank also means that you can get up to 80 hours of humidity if you set this at its lowest setting.
If you have hard water, you can use a demineralization filter, which should reduce the white dust that comes with ultrasonic humidifiers, but they aren't necessary. You also get a night mode, which reduces the sound a bit and turns off the night light.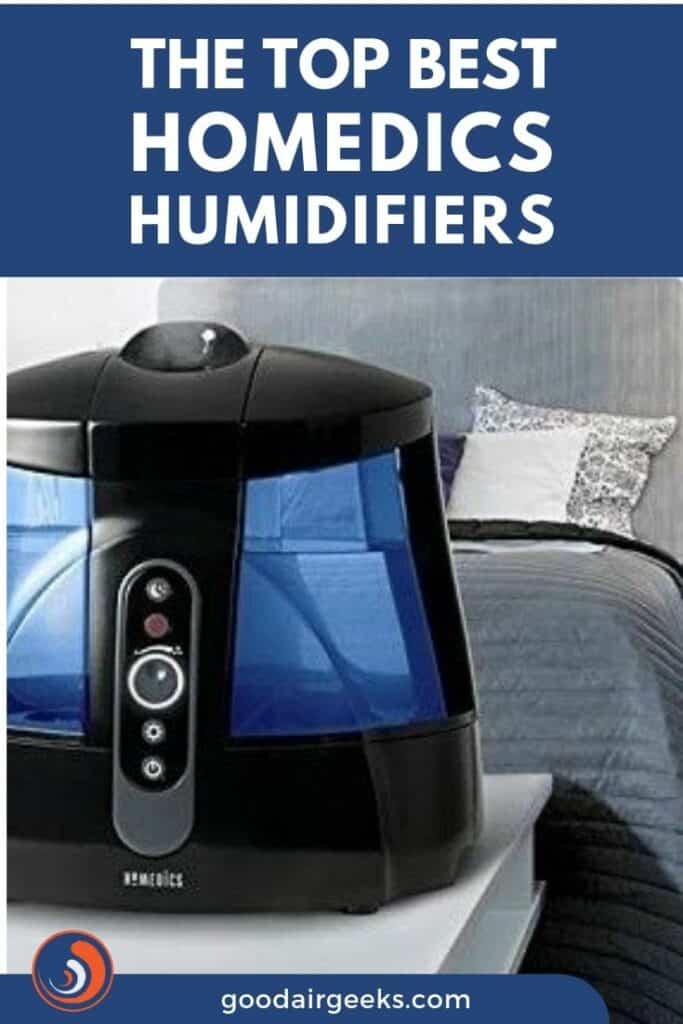 Last update on 2023-09-28 / Affiliate links / Images from Amazon Product Advertising API