There are many benefits to having a humidifier in your home. If anything is preventing you from making a purchase, it is likely the constant maintenance you might expect with owning a humidifier, or maybe it is the added expense that comes with filter changes.
You might not know it but there are many filter-free humidifiers on the market that don't require you to clean or change a filter every week, month, or season.
The best filterless humidifiers operate quietly so that you can keep it in your bedroom, or your baby's nursery, or the living room, and you won't be disturbed at all.
Many include features, such as aromatherapy pads or trays, humidistats, timers, or remote controls. Of course, the more features, the higher the price, but you don't have to spend a lot of money to get a high-quality filterless humidifier.
You just have to find the one that has the features you need and want, and one of the best ways to do that is to read up on filterless humidifiers in a guide like this one.
Best Filterless Humidifier Comparisons
What's the Deal with Filters in Humidifiers, Anyway?
Typically, a filtered humidifier is an evaporative or warm mist type. There's no denying that there are benefits to using a humidifier that requires a filter – and there are different types of filters used in different types of humidifiers.
Wick Filter – Designed to Fit HCM and HEV Humidifiers
The filter is generally used as a wick for the water. It purifies the water and acts as a holder of sorts for the water that is then turned into mist and emitted from the humidifier.
Ceramic Filter – Replacement Filters
A ceramic filter is usually considered a permanent filter. It helps to clear minerals from tap water, which then reduces the amount of white dust the humidifier would produce. These are typically found on cool mist humidifiers.
The problem with filters in your humidifier is that they're going to need to be cleaned or replaced. You already have to clean your humidifier, so why add another job?
Plus, the added cost of a filter might break your decision to add a humidifier to your home. You could be looking at an added cost of $20 or more per month.
Why look for a humidifier without filters?
Some people prefer the peace of mind that comes with a filtered humidifier. It seems like you're doing something even better for you and your air quality, but the truth is your humidifier doesn't need a filter.
If you buy a warm mist humidifier, the heat that's applied to create steam kills off bacteria and other stuff before the humidity hits the air in your home. So, a filter is definitely not needed in the case of a warm mist humidifier.
When it comes to cool mist humidifiers, a filter can be helpful to mitigate the minerals in tap water, but it's still unnecessary. You can use filtered or distilled water to avoid that white dust. Alternatively, you could add demineralization additives by drops or tablets, and it's more cost-effective.
As far as the cleanliness of your water, there's no need to worry there. All humidifiers require weekly cleanings. And stagnant water isn't usually a concern, especially if you're using your humidifier around the clock.
Additionally, many of the humidifiers made today, whether evaporative, impeller, or ultrasonic, are made with plastic that's been made with an antibacterial treatment. Given all the improvements in humidifiers these days, a filter is becoming less necessary.
What is that White Dust, what causes it, and how is it produced?
If you use an impeller or ultrasonic humidifier, you might notice that your home gets covered in fine white dust after using your unit. The white dust is a harmless byproduct of the minerals found in water.
Cleaning it up is no more difficult than your regular dusting routine. If your tap water is particularly hard or full of minerals, you're going to likely have more white dust than others who might have softer water. The demineralization cartridges or treatments work well to reduce that dust.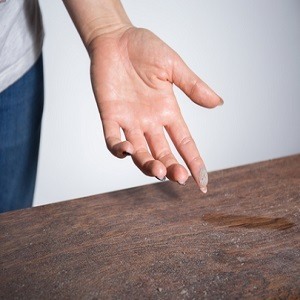 Here are the Features to Look for in the Best Filterless Humidifiers
When looking at the best filterless humidifier ratings, it's a good idea to keep in mind the features you need and the ones you want.
You might need to compromise on some of the bells and whistles to find an affordable filterless humidifier that offers features that you cannot live without.
Chances are, though, you'll get everything you want with the ones picked and reviewed below.
Humidistat
Having a built-in humidistat may be the single most important added feature of any humidifier. Why? It not only measures and reports the current humidity level in your home, or the room, it also usually lets you choose the humidity level you want.
The humidifier then will regulate the humidity until it gets to the level you've set, and then it shuts off and turns back on to maintain that perfect level.
Easy to Clean
You shouldn't overlook the cleaning aspect, either. You want a filterless humidifier that's easy for you to clean.
That means finding one that doesn't have small corners and nooks that are near impossible to reach when you're scrubbing away those hard water deposits. Find a tank that has a wide opening, too, so you can get your whole hand in there.
Easy to Use
For the most part, all humidifiers are easy to use. You add water, plug it in, and turn it on. But there are some humidifiers out there that have programmable stuff, which might just add complication to your life. Keep it simple, and you're more likely to use your humidifier regularly.
Timer
A timer is one of those features that you could probably do without. While it's convenient to use, it may be more of a hindrance. Sure, you can set it to run for a set amount of time and then it'll shut off and wait for your next command.
But this also means you might have stagnant water where things can grow. It's best to just let your humidifier run and regulate itself or run until the water is gone. And be sure you dry out the water tank in between fills to prevent mold growth.
Aromatherapy
If adding oils or menthols to your humidifier is important to you, then you'll have to find a filterless humidifier that allows for this. Most do not, and adding essential oils can damage the unit, and likely void your warranty. This feature isn't a necessity for most people, though.
Large Tank
Having a large tank is important if you have a large room to fill, or if you need an extended runtime. Also, a larger tank typically means you'll have an easier time cleaning it. Then again, this could present a problem with refills – make sure you can lift a full tank without issue.
Nightlight
Here's another feature that may be unwanted by some. A nightlight can be a helpful thing to have on a humidifier when you're trying to find your way at night, but it could also prevent restful sleep if you're keeping your humidifier in your bedroom.
Related Content: Steam Humidifier vs Ultrasonic Humidifier, what's the difference?
Top 5 Filterless Humidifiers Reviews
Everlasting Comfort Ultrasonic Humidifier
When you need a larger humidifier to effectively add moisture to the air in a larger room, you might want to consider the Everlasting Comfort Ultrasonic Humidifier (from Amazon). This filterless humidifier has a runtime of up to 50 hours, which means you can go for two days without having to refill it.
Of course, that's only if you choose the lowest setting of humidity. The 1.6-gallon tank is large and easy to refill however, you might have a little trouble with cleaning it. Get some special brushes and you shouldn't have that much trouble with them.
Aside from not having to worry about filters to clean or change, this ultrasonic humidifier runs almost silently, so it can stay in your bedroom.
There is an optional LED nightlight, so keep it on if the light doesn't bother you, or turn it off if it does. Additionally, this humidifier lets you add essential oils to a special tray, making this a diffuser, too.
If it's important for you to have a filterless humidifier that also works as a diffuser, then this might be the one for you.
Pros
Auto shut off
Quiet operation
Long runtime
LED night light
Allows essential oils
Cons
Hard to clean
Leaks common
---
Honeywell HUL520L Mistmate Cool Mist Humidifier
Having a personal humidifier can make the air you breathe in your bedroom or office so much better, and the Honeywell HUL520L Mistmate Cool Mist Humidifier does a good job of adding moisture to your space.
It's meant for about 150 square feet, which isn't a huge space, but that's why it's a personal filterless humidifier. Still, it's large enough to hold about half a gallon of water, and it can run for up to 20 hours, which is quite a while for a personal humidifier.
The great thing about an ultrasonic humidifier is that it operates almost silently. This one has a bit of a hum, but beyond that, it's fairly quiet. The tank has a wide mouth, which makes this easier to clean and refill than some of the other smaller humidifiers on the market.
Plus, you get your choice of four colors, so you can coordinate your humidifier with your space. Like all ultrasonic humidifiers, though, this one does produce that annoying white dust.
If you're looking for a personal humidifier without a filter, this one might be an excellent choice for you.
Pros
Large tank mouth
Four color options
Quiet operation
Up to 20 hours of runtime
Cons
Only humidifies small spaces
Produces white dust
---
LEVOIT Humidifiers, 6L Warm and Cool Mist Ultrasonic Humidifier
Good luck finding a better large filterless humidifier than this LEVOIT one (from Amazon). You get more features on this humidifier than you might expect. You have your option of warm or cool mist with this unit, but even better than that is the 6-liter tank.
If you want to run it constantly on a low setting, you can get 36 hours of runtime out of it. That means you shouldn't have to refill it for nearly two days. You also have the option of using the 12-hour timer feature.
Even better is the built-in humidistat, so you can set it up to run until it hits a target level of humidity – and you can see what that level is any time on the display.
A multifunctional filterless humidifier is always best, and this one doubles as a diffuser. LEVOIT included an essential oil tray where you can add whatever oils you want to make your house smell great or to help you relax – or give you a boost.
A remote control is also included, so you can control it from bed without having to get out, or from your couch without having to get up. Some defects have been reported, including cracks and leaks, but the company offers a two-year warranty, in case of those problems.
If you want a feature-filled filterless humidifier, this might be your best humidifier choice.
Pros
Includes remote
Warm or cool mist
Includes humidity level
Long runtime
12-hour timer
Two-year warranty
Essential oil tray
Cons
Leaks common
Warm mist mode loud
---
Vicks Filter-free, Ultrasonic, Visible Cool Mist Humidifier
You know the name Vicks, but did you know that the company makes humidifiers? It kind of makes sense, given its menthol history.
The Vicks filter-free ultrasonic cool mist humidifier seems like an ideal solution for anyone who wants to add a little more moisture to their air – along with that familiar, soothing Vicks scent. The humidifier was made to hold pads with the Vicks menthol ointment, which can help comfort you when you're sick.
This may be a smaller unit than you're used to seeing, but it produces enough vapor for medium-sized rooms.
The runtime is surprising at 30 hours, but you'll have to use a lower setting to get that kind of time out of this machine with a 1.2-gallon tank. You won't be able to add essential oils to this unit, though, so you'll have to stick to the Vicks pads, which becomes an added cost.
If you're looking for a filterless humidifier with a name you know and trust, then this could be the right one for you.
Pros
Accepts Vicks pads
Easy to use
Quiet operation
Long runtime
Little to no leakage
Affordable
Cons
No essential oils can be added
---
MistAire XL Ultrasonic Cool Mist Humidifier
When a company adds "XL" to the title of its humidifier, you can expect it to be large, or work for large rooms, and both are the case for the MistAire XL Ultrasonic Cool Mist Humidifier for Large Rooms.
It's surprisingly affordable when you consider that it's rated for rooms up to 500 square feet. The 1-gallon tank is smaller than some other humidifiers out there, but that size is manageable for refilling, especially. Run this unit on its lowest setting and you should get about 24 hours of use out of it.
If having a nightlight is important to you, then you can choose this filter-free humidifier. It has an LED nightlight with four different colors from which you can choose. Also, you get two nozzle options on this unit.
One has a single opening, and the other has two, which means you can direct the visible vapor where you want it. No essential oils should be used with this humidifier, and there have been reports of leaks. The handle seems a little iffy, too, but you do get a five-year warranty when you buy this humidifier.
If having a filterless humidifier with a nightlight and a long warranty is what you're looking for, then this could be perfect for you.
Pros
Auto shutoff
Nightlight
Long runtime
Nozzle options
Five-year warranty
Cons
May leak
The carrying handle is a bit weak
---
The Bottom Line
You have plenty of options when it comes to filter-free humidifiers. You can choose from almost any technology and there's a filter-free option, likely. Some can double as diffusers, while large units can keep the humidity going for days, and others are super affordable personal units.
When shopping for the best filterless humidifier, though, you can stop looking when you get to the LEVOIT Humidifiers, 6L Warm and Cool Mist Ultrasonic Humidifier. For all that you get with this humidifier, it's surprisingly affordable (less than $100).
It works well for almost any size room, and the 6-liter tank capacity means you only have to refill it once per day or a couple of days. Even better, this humidifier comes with a built-in humidistat that measures the humidity of your room and displays it on the front of the unit.
You can set the humidity level you want and this humidifier will regulate it automatically. There's a remote control included, it has a timer, cool or warm mist options, and even an essential oil tray.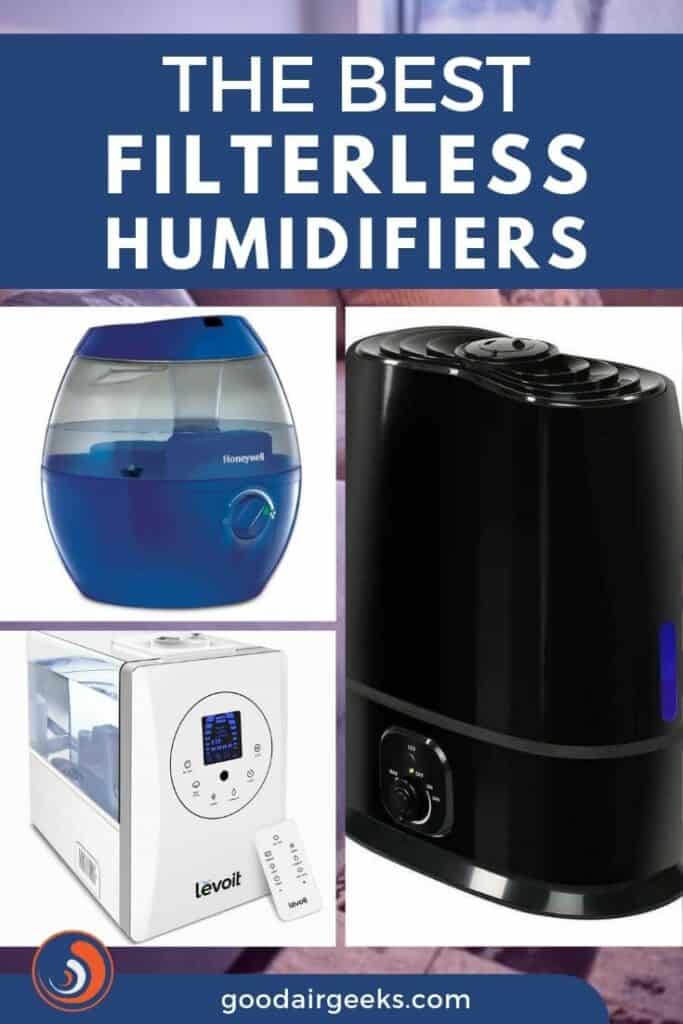 Last update on 2023-09-28 / Affiliate links / Images from Amazon Product Advertising API