The Dyson name is synonymous with abstract-looking design, and out-of-the-box products with their unique look. Their air purifiers are no exception to the rule with modernistic models that look nothing like the competitors in the purifying market.
But looks are not the only thing Dyson excels at. All of their products are backed with superior performance and several of the air purifiers work as multiple appliances in one.
These models clean, fan, and cool the air in your home. Taking things a step further some models even offer the function of heating air in the winter months while cooling it in the summer.
Given that the air quality inside most homes can be a lot more polluted than we care to think about, it makes sense to invest in a quality purifier to help out. Here is what you need to know about Dyson air purifiers before you purchase one.
Best 5 Dyson Air Purifiers Comparison
The Dyson Technology
Dyson brands their air purifiers under specific technologies that go by the following names:
Pure Cool Me
These models work as personal purifying fans that also capture allergens, pollutants, and gasses. As the name suggests, these are smaller models, focusing on personal airflow exactly where you need it. This personal purifying fan comes with a sealed HEPA filter to help remove pollutants from the air and allows you to control airflow by adjusting the dome's angle to flow higher or lower.
Pure Hot + Cool
This is advanced technology where the purifier purifies the air all year round. Plus, it heats in the winter and cools in the summer. These models are capable of sensing and capturing gases and airborne particles and then reporting them in real-time on an LCD screen.
The purifier can oscillate 350o by mixing and circulating the air to heat or cool. This makes the Dyson Pure Hot + Cool the only purifying heater and fan to clean a whole room on its own.
Pure Cool
These models work to cool you in the summer while purifying air all year round. Sharing the same technology as the Pure Hot + Cool models, these purifiers can also detect and capture airborne pollutants and gasses reporting them in real-time. The Air Multiplier technology used here projects more than 77 gallons of purified air in one second to cleanse your indoor environment.
How Can Air Purifiers Help?
Air purifying is a generic term. When buying an air purifier, what you may be looking for is a particular reason (or two) why you'd want to use one in your home. The most common of these include the following:
Allergen control – This refers to restricting or removing airborne allergens such as pollen, dander, dust mites, and mold from the environment. The most typical symptoms of such allergies present themselves as sneezing, coughing, eye irritation or watering, and headaches.
Asthma triggers – Purifiers can also help regulate common asthma triggers which can include common allergens along with irritants such as smoke, perfumes, strong odors, or even chemical fumes.
Dust prevention – If your home tends to accumulate a lot of dust, you may want to invest in an air purifier as well. These machines do really well when cutting down dust and dust mites by sucking in air and trapping these particles. If you don't want to clean all the time, you could get an air purifier to help you out.
Mold elimination – Specialized models of purifiers can help combat mold and bacteria in indoor spaces. These will include a True HEPA filter to purify the air and UV technology to target the spores. Alongside these two features, you should also look for a purifier with an activated carbon filter to eliminate the mold odor.
Hair and pet dander reduction – Use a purifier to combat pet-related issues and allergies. These machines will pull dander, hair, and odors out of the air by using true HEPA filters that suck out these particles and can't be re-released back into the air.
Smoke and odor removal – Smoke tends to leave a lingering odor behind. Purifiers intended for smoke and odor removal need to trap airborne particles that can form visible smoke as well as other particles that form odor. To do this, these machines should be equipped with a True HEPA filtering system and an activated carbon filter. A combination of the two will be effective in addressing smoke and odor issues.
So, if quality air purifying is what you seek and are not shy to spend on an appliance then take a look at these Dyson models
Top 5 Dyson Air Purifier Reviews
Dyson Pure Cool Link Desk Air Purifier
Best for Summer
This model is a desktop version of the larger Dyson Pure Cool Link (from Amazon). Like the larger version, this one can function regularly as an air purifier which can remove particles as small as 0.3 microns.
This purifier specifically removes allergens and pollutants to keep your air clean and care-free. In the summer though, you have the option to turn on a cooling fan on your desktop air purifier. This can make your air not only breathable but cooler as well, a great two-in-one deal.
This device is a smart one. It automatically monitors the air purity and turns itself on when it needs to. All of this is then sent to the app on your phone that connects you to your air purifier. This can be activated through Amazon Echo.
This also comes with a night mode which restricts itself to the quietest of levels as you'd want it for a good night's sleep. The LED displays on this device dim down during the night so it doesn't disturb you.
The replacement filters for this machine can be found on Dyson's website. This uses like the larger version both carbon and HEPA filter layers to keep your air clean and odor-free.
Pros
Dual-functionality of fan and purifier
Night mode uses quieter levels and dims the LED light
Monitors the air quality through a mobile app
Cons
Pro Tip
If you live in a warm or humid climate and need a good air purifier, this one also cools the air as well.
---
Dyson Pure Cool DP04-HEPA Air Purifier and Fan
Best for Small Spaces
This Dyson Pure Cool air purifier (from Amazon) is sized to fit on your desk but manages to clean the entire room with ease. This air purifier can detect the air quality and purity on its own and through this, it determines when to turn on by itself. This is then reported on the LCD display located on the body of the purifier.
This air purifier uses both HEPA and carbon layers as filters to ensure allergens, pollutants, and odors are all trapped and collected, kept out of your air.
This model also has the option of oscillation with a 350-degree turn. This Pure Cool model has the option of a forward airflow and a backward airflow for seasonal changes. The forward airflow cools you down while the backward airflow prevents any cool airflow.
The night-time mode keeps the device at a lower speed for a quieter performance and it dims down the light of the LCD display.
This model can be controlled by both the remote provided and a mobile app you can connect the device to.
Pros
Silent performance
Remote and mobile app-controlled
Oscillation at a 350-degree turn
Forward and backward airflow options
Cons
Does not provide sufficient cold air
Pro Tip
This model is perfect for small spaces because its low noise level.
---
Dyson Pure Cool TP01-HEPA Air Purifier and Fan
Best for Large Spaces
This is the larger model for the Pure Cool designed Dyson air purifier. This purifier can be used to control the air in larger rooms.
This purifier uses a HEPA filtration layer to keep out pollutants and allergens as small as 0.3 microns. This removes 99.97% of all particles in the air. With the air-multiplier technology infused in this purifier, this not only cleans out your air but magnifies it, serving 77 gallons per second into your room.
This serves as both a tower fan and an air purifier for your room. The features included in this tower are a sleep timer, oscillation, 10 separate airflow settings, and an automatic shot-of function if the tower falls over.
This air purifier is certified as asthma and allergy-friendly and is also awarded the quiet mark for silent performance.
The second layer inside of this purifier is a carbon layer that captures the odors and fumes in the room to make your room scentless.
Pros
Air-multiplier technology
Both tower fan and purifier
10 separate airflow speed settings
Automatic features
Asthma & allergy friendly
Cons
Plastic material is very light
Pro Tip
If you or anyone in your household suffers from airborne allergies then this is the perfect unit.
---
Dyson Pure Cool TP04-HEPA Air Purifier and Tower Fan
Best Quality
This model Pure Cool Dyson purifier works as both a purifier and a fan. This device is capable of sensing pollution as well as allergens in the air and then activates itself to do its job.
This model like all the others is a duo of both a HEPA and activated charcoal layer to cleanse the air. These two layers work together to make sure there are no bacteria, dust, pollen, pet dander, spores, odors and smells contaminating the air.
This model is Wi-Fi connected so you get live reports from your Dyson purifier on your air purity, time used, and speed the device has taken sent right to your phone. With the Dyson Link app, you can control your machine, create schedules for it and monitor its settings.
On the LCD display, you can see the graph about your ultrafine particles, allergens, volatile organic compounds, and Nitrogen Dioxide. All around the room, you'll get magnified pure clean air, a fresh breath with each step.
The forward airflow comes out as cool while the backward airflow remains without any temperature modification. This model can also connect to Amazon's Alexa.
Pros
Dual-functioning
Wi-Fi connected/Alexa connected/mobile app
backward / forward airflow for seasonal change
Cons
Pro Tip
This unit is an excellent choice for those looking for a heavy-duty purifier for their home or workspace.
---
Dyson Cool AM07 Air Multiplier Tower Fan
Most Versatile
The AM07 Air Multiplier air purifier from Dyson comes with 10 different speed settings to select from. This remote is styled to be curved like the top of the machine and is magnetized to stay put when you're not using it.
With no fast-spinning blades in the purifier, it remains child and animal-safe. It becomes easier to clean as well. These fans use patented air multiplier technology for a surge of strong, fresh air throughout the whole room.
While this titan is powerful enough to control the airflow in a whole room, it also limits its usage with an energy-efficient method of first sensing its surrounding environment and then determining whether the air is contaminated or not.
The performance of this tower fan is complemented by a silent presentation with all of its levels of speed. There's an additional feature to this device, a sleep timer, which can range from 15 minutes to 9 hours.
Pros
Aesthetic appeal
10 different speed levels
Magnetized remote
Sleep timer from 15 min. to 9 hours
Cons
Pro Tip
This majestic piece is an eye-catcher with its pearl white coloration and tall-standing elegance. It's not something that you can look at skeptically. It makes for a great piece in your home, making it great for those looking for something with style.
---
Conclusion
With these Dyson recommendations, you can be sure to find a model that fits your home's air purifying needs. You can also rest assured that your air purifier will deliver the performance it promises, backed by the Dyson name and company warranty.
Whether you are looking to simply purify indoor air or perhaps even cool the room temperature a little, there is a Dyson model ready for you. If you want to get even more out of your air purifier and add heating features to the appliance, Dyson does that for you as well. While the price tag is often a concern for many, Dyson more than makes up for it with its superior performance and noticeable results.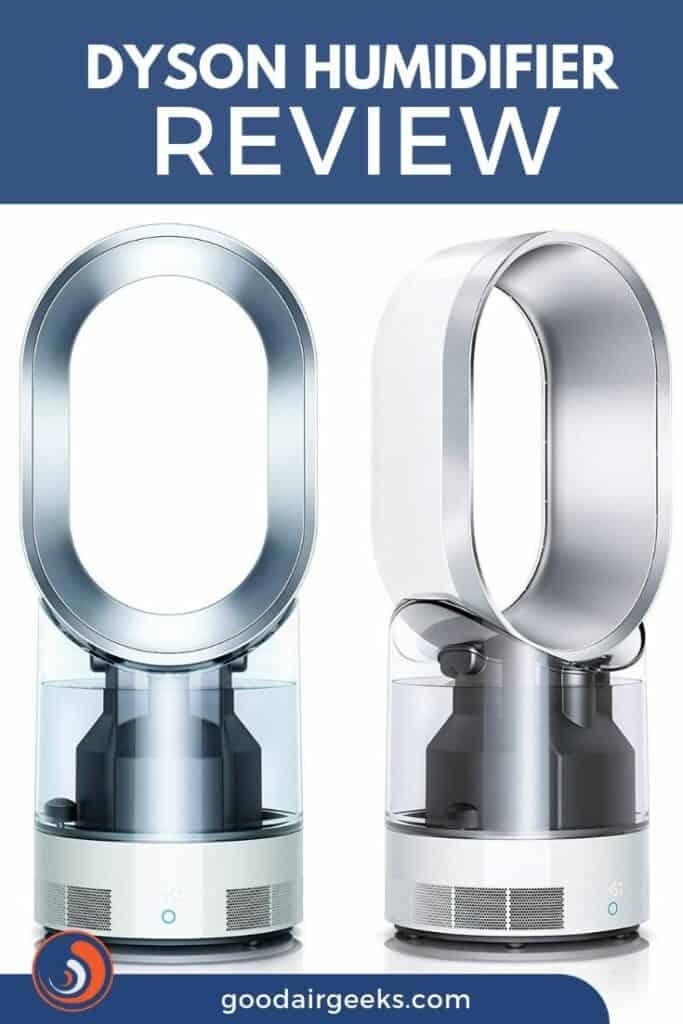 Last update on 2023-12-06 / Affiliate links / Images from Amazon Product Advertising API