With all the choices out there when it comes to humidifiers, diffusers, and the multifunctional diffuser and humidifier in one, it can be tricky to figure out which one to buy. Whether you're looking into adding moisture to the air in your home, or you want a diffuser for your essential oils, the best diffuser-humidifier can please everyone.
Some people who just want the benefits of the oils might prefer a diffuser only, as they're more likely to get higher concentrations of the oil particles in the air. That doesn't mean that these combo units aren't effective, though. Learn more about these multifunctional machines that can help ease the symptoms of an arid climate, freshen a room, and even provide you benefits you didn't know about. Be sure to read diffuser-humidifier reviews, too, so you can pick the right one for you.
Best Diffuser Humidifier Comparisons
Why Aren't All Humidifiers Diffusers and Vice Versa?
A humidifier is supposed to serve one function: adding humidity to your home. A diffuser is meant to spread essential oils throughout the room. If you stick to just a humidifier, it typically isn't a good idea to also use it as a diffuser, as the oils could damage the tank of your humidifier. And diffusers are generally much smaller and aren't meant to add large amounts of moisture to a room.
The happy medium is the diffuser humidifier, which works to up the humidity of a room and freshen it with your diffused essential oils. Usually, there's a tray included where you can add the essential oils you want, and you won't have to worry about the oils damaging anything. Some humidifiers allow you to add oil directly to the water, though.
Diffusing oils and creating water vapor happens a number of ways. There's only one method that diffusers use that humidifiers don't.
Ultrasonic
Science is neat, and the ultrasonic method of diffusion and humidifying proves it. The unit will vibrate a small metal plate, which is at a frequency that breaks up molecules of moisture, thus turning the oils and water into tiny particles that are a mist.
They typically push out the top of a unit and the mist itself is cool. One downside to ultrasonic units is that they also emit a fine white powder, which is the minerals in the water you use in it. You can reduce the white dust by using an additive, or distilled water.
Heat
A combination diffuser and humidifier that uses heat to create steam is also called a warm mist humidifier. These heat up the water to create the vapor that's pushed out the top of the unit. The vapor isn't actually all that warm, and by the time it reaches your lungs, it's quite cool.
This is an effective method, but it uses more energy than other contraptions, and these can be more expensive. The good parts are, the heat can kill bacteria and viruses, and there's no white dust created.
Evaporative
One of the most common humidifier-diffusers around is the evaporative type. A wick acts as a filter, so there's no white mist that'll shoot out into your home – just the water vapor.
These are highly effective at adding humidity to a room. An evaporative humidifier and diffuser can be a bit loud, though, because of the fan that's used to create that evaporation of the water and oils.
Nebulizer
A nebulizer doesn't use any water at all, so they can't add humidity to a room. A bit of pressurized air and a vacuum manage to atomize the essential oil, and then the particles are expelled into a room. It continues this vacuumed and blown cycle until the oil is gone.
This is one of the most effective methods to diffuse essential oils.
All these methods have pros and cons, as you read above. And the only method that won't work to give you humidity and a lovely scent of essential oils in the air is the nebulizer. That's only for diffusing scents.
Reasons to Want a Diffuser Humidifier in Your Home
So, why would you want a combination unit that adds both humidity and essential oil scents in your house? Humidity is important for every household, but especially for those who live in drier climates. Whether you live in a year-round arid area or the air gets drier as winter hits, you could benefit from a humidifier. It's puts moisture back into the air you're breathing most of the time – in your home (and especially your bedroom). Added humidity can help reduce snoring, nosebleeds, and stuffiness. They can even help to kill viruses in the air, which could mean fewer illnesses for you and your family.
Essential oils aren't used just to freshen the air in your home. Many people enjoy the benefits of particular oils. For relaxation, lavender and chamomile are commonly used. To give you an energizing boost, you could try sweet orange; peppermint works well to give you focus; and lemongrass can keep bugs at bay.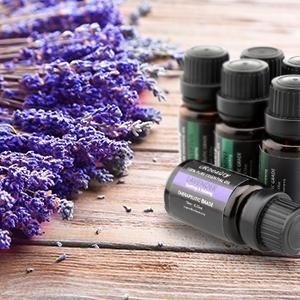 When you find a machine that can both add humidity to your air and provide you with relaxing, energizing, or healing essential oil in the air, why not go for the combo? Perhaps the most surprising of all, is that the best is also quite affordable. Another bonus: The diffuser humidifiers made today are attractive, and they can look great with any décor.
Top 4 Diffuser Humidifier Reviews
URPOWER Aromatherapy Essential Oil Diffuser Humidifier
At 6.5 inches, the URPOWER square diffuser humidifier (from Amazon) is a small unit that would work well on a nightstand, a kitchen island, or a side table in any room. The sleek, modern design looks great with almost any décor. The wooden accents are lovely, and you can choose the color of the LED light. Your options are pink, yellow, green, light blue, bright blue, purple, and red. As a diffuser, it seems to work well enough, as long as you place this in a smaller room. There's no tray that you need to use – simply add drops of essential oil in the water when you fill the small tank.
As a humidifier, this popular unit does well in smaller rooms. You can expect the humidity to rise by about 10 percent. Put this in a larger room, though, and it's unlikely to change the moisture in the room at all. This is an ultrasonic cool mist humidifier, so it pumps out the vapor quietly. You might notice a little sound, but it's a lot like white noise. Some people have noted that leaks can happen, but most people say the cover is snug.
If you're looking for a modest diffuser humidifier that looks great in any room, this could be a good choice for you.
Pros
Auto shut off
Two output settings
Small size

Quiet operation

Long runtime
Colorful LED light
Cons
Could leak
Doesn't produce much humidity
---
Everlasting Comfort Ultrasonic Humidifier
One of the best things about the Everlasting Comfort ultrasonic humidifier (from Amazon) is that it's a bit larger than most diffuser humidifiers, so it can work in a space up to 400 square feet. The 1.6-gallon water tank means you won't have to refill this often. In fact, if you were to use this on the lowest setting, you could get humidity and oil dispersion for up to 50 hours. The ultrasonic cool mist method means that this is a quieter unit, so you could use it in almost any room in your home with no issue.
The automatic shutoff feature works similarly to other diffuser humidifiers. Once the tank runs out of water, the unit shuts off. And like other machines like this, you'll have to clean it regularly to prevent buildup of minerals, bacteria, and mold. It's a bit difficult to clean this Everlasting Comfort humidifier because of all the nooks, crannies, and moving pieces. And there are reports of leaks with this unit, but it seems to be a common issue of most humidifiers.
For a diffuser humidifier that'll work in larger rooms, or even two rooms, of your house, you might want to consider this unit.
Pros
Auto shut off
Quiet operation
Long runtime

Large tank

LED nightlight
Cons
Hard to clean
Leaks common
---
URPOWER 2.0 Essential Oil Diffuser
When shopping for a diffuser humidifier, you're likely to run across this one by URPOWER (from Amazon). It's a familiar shape and style, and it's typically at the top of the bestselling diffuser list. Part of the reason it does so well is that it's incredibly affordable. For what it is, it works well at adding humidity to the air around you, but it is quite small. So, it will work for personal purposes, but it won't fill a large room with humidity and essential oils.
The manufacturer claims that this diffuser humidifier can run for up to six hours, but it's more likely to automatically shut off after only a few hours when the water runs out. Choose the intermittent setting, though, and you'll get a spray of water vapor and essential oils every 30 seconds or so. All humidifiers need to be cleaned regularly, and this little one is no exception. It is much smaller than most, and the top is tricky to remove, so it might prove difficult to get it thoroughly clean.
If affordability is the most important factor to you when choosing a diffuser humidifier, then this one could be the right one for you.
Pros
Color changing LEDs
Auto shutoff

Quiet operation

Affordable
Cons
Short runtime
Hard to open
---
Exqline EXQ-18690
Larger diffuser humidifiers are good to have when you want to add more moisture or scented oil to the air, and this one by Exqline seems to be a solution. In a way, this diffuser humidifier is much like the smaller, more affordable ones. The biggest difference is size. The tank can hold up to 1500 milliliters, so you can get 20 hours of mist from this unit. You still get the color-changing LED light, the automatic shutoff, and quiet operation, thanks to the ultrasonic cool mist method of creating vapor.
Perhaps one of the biggest issues is that people have reported lots of defects. Sometimes the auto shutoff won't work, or there are leaks. Occasionally, the mist will simply stop. And some say the essential oils don't really come through. This is also not the most decorative unit around. The unit is a tall white box with a view window that shows you the water level. Still, it's one of the larger diffuser humidifiers around with an affordable price.
If you're looking for a larger diffuser humidifier and you don't mind its aesthetics, this could be a good choice for you.
Pros
Color changing LEDs
Auto shutoff
Quiet operation
Larger unit
Variable mist output
Cons
Aesthetics may not be pleasing
Lots of defects reported
1500ml Aroma Essential Oil Diffuser Large - Exqline Diffuser for Large Room, Large Aromatherapy Diffuser/Humidifier, Unique Diffusers for Essential Oils(White)
【Super Large Capacity & Longer Running Time】- 1500ml (almost 1/2 gallon) water capacity of Exqline large essential oil diffuser supports over night operation with a full tank of water (up to 10-20 hours working time). No need to fill water as often as using other smaller capacity essential oil diffusers.
【Effortless Usage & Switchable Lighting Mode】 - This large diffuser for essential oils is easy to use - Inject water then add a few drops of your favorite essential oils to the reservoir, and the room will be filled with fabulous aroma. The lights options are separately switchable between bright and dim, providing you a cozy atmosphere in rooms with soft lighting.
---
The Bottom Line
A diffuser humidifier is good to have around in the dry winter months, and especially if you're always running a dry, forced air heater. Adding humidity to the air in your home can help combat chapped lips and stuffy noses. The added benefit of finding one that allows you to use essential oils is that you can add a lovely scent to help you relax, or to perk you up. Most diffuser humidifiers are affordable and come with at least a one-year warranty.
A great diffuser-humidifier is the one that works well in almost any size room, and one that has a long runtime. After all, no one wants to have to refill the tank constantly. Give the Everlasting Comfort Ultrasonic Humidifier a shot, and you may find that it's the best humidifier you've used. It can run for up to 50 hours, which means you're only refilling it every two days. And it works in larger rooms, though it won't do much for an entire house.
Last update on 2023-09-28 / Affiliate links / Images from Amazon Product Advertising API