Not all humidifiers are made equal. Some have similar designs and are labeled as  "cool mist" in their descriptions, and they make the same promises.
Crane is a company that makes humidifiers that are meant for you, your children, and your home. They take everything into account, from aesthetics, safety, and of course, efficiency.
Some of the more popular humidifiers sold today are Crane cool mist humidifiers that require no filters and are capable of adding humidity to a whole room.
They offer a few different size options, so you can get one that is small enough to put on a desk, but powerful enough to add the right amount of moisture to your personal space. You can also find large-capacity ones that you will run for several days without having to be refilled.
Let's explore Crane and the best humidifiers they make in the reviews below to figure out which one of these would be best for you and your family.
Best Crane Humidifier Comparisons
Why Trust Crane Humidifiers in Your Home
Crane may not be 200 years old, but its parent company Wachsmuth & Krogmann, Inc. is. Crane started designing products for the home to make life better for everyone in 2005, and the company continues to improve upon its designs and technology. The only products that Crane makes have everything to do with the air in your home.
You can find humidifiers, heaters, purifiers, fans, and diffusers from Crane. That means that Crane understands the importance of healthy air and how it can directly affect your everyday life. Whether you're dealing with a dry throat, runny nose, or a bit of congestion, an increase in humidity can help. Adding a Crane humidifier can even help combat or prevent colds and the flu.
Newborns can benefit from a humidifier, as well, and Crane points this out. A humidifier in the nursery can open up airways for newborns, making it easier for them to breathe, so they then sleep better and feed easier. Plus, a humidifier can help a newborn retain more moisture in their skin.
Aside from the health of you and your family, humidity can also help your pets, furniture, and musical instruments, according to Crane.
Wood instruments and wooden furniture require higher humidity levels to prevent drying out and cracking. Plus, pets can also suffer from dry, itchy skin and cold symptoms, but a humidifier can lessen those symptoms of an arid house. Additionally, a humidifier from Crane can help combat noisy snoring in some people's cases.
What Crane Makes to Help Humidify Your House
Warm Mist
A warm mist humidifier is rarer to find these days, but Crane continues to offer a handful of them for those who prefer humidity created by heat. What this means is that you won't have to worry much about bacteria in the water, as the heat will kill anything off. The vapor you'll be breathing is steam, so it's a little bit warm, which can help make your furnace work more efficiently.
Evaporative
Some people prefer to own a humidifier that uses evaporative technology. A fan is included, so for many that's a bit too noisy to use, especially at night, but for others it creates a nice white noise. The moisture added to the air is the same as any other, but it's a cool mist, so it shouldn't affect the temperature in your home.
Ultrasonic
One of the reasons people prefer an ultrasonic humidifier is that they're so much quieter than other types. There's no fan included, so you won't hear it working as it creates humidity for your home. These humidifiers are as affordable as any other type, as well.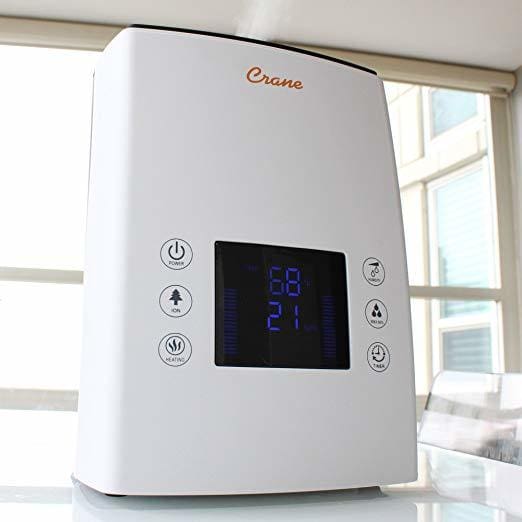 You can also find some combination warm and cool mist humidifiers that use ultrasonic technology to create the moisture, and they let you choose whether you want to add heat to create a soothing warm mist. Crane is also known for offering a variety of humidifiers that are perfect for nurseries and children's rooms because of the type of humidifier and the fun designs. Ultrasonic is always used for little ones' humidifiers, as it's one of the safest types of humidifiers because there's no hot water or heating elements to worry about. And you can choose one in the shape of an elephant, frog, monkey, dragon, pig, and various other cute animals.
Features You Might Want in Your Crane Humidifier
Most humidifiers offer the same basic features. Automatic shutoff is a built-in safety feature you'll find in almost any humidifier, so if your water tank empties, the unit will turn off to protect the motor. Anything else beyond that might be considered an extra. Here are some of the features you can expect on one of the best Crane humidifiers.
No Filter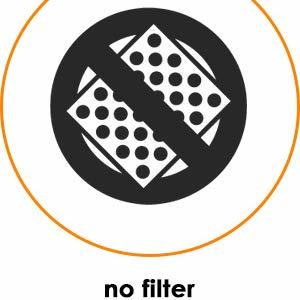 When you don't have a filter to change or clean, it makes your life just a little bit easier – and it makes a purchase less expensive. Most Crane humidifiers require no filters to operate.
Quiet Operation
Most of Crane's humidifiers use ultrasonic technology, so there's very little noise made while it's working. That means you can keep one in your bedroom and the small amount of sound coming from the humidifier shouldn't be disruptive.
Variable Humidity
Nearly every one of Crane's humidifiers lets you choose the amount of humidity you want or need at one time. Some let you select it by a touchscreen button, while others use an easy-to-use dial.
Humidistat
Found on the higher-end units, a humidistat not only lets you see what the humidity levels are in the room where your humidifier is, you can also typically set it up to run only until it reaches a certain percentage of humidity. That's a helpful option when you know what level you want, but you don't want to have to keep checking the humidifier.
Timer
If you just want your humidifier to run while you sleep, a timer is helpful. Just set it to go for a set number of hours and you won't have to think about turning it off when you wake up.
Top 5 Crane Humidifier Reviews
Crane USA Filter-Free Cool Mist Humidifier
The drop shape of the Crane USA Filter-Free Cool Mist Humidifier (from Amazon) seems to aid in its ability to push the humidity it creates into the air you breathe in your home. The nozzle is adjustable – you can twist it around 360 degrees to direct the moisture where you want it. It's an easy-to-use humidifier that only requires you to fill the tank and turn it on. There's a dial that lets you choose the amount of moisture that's released at once into the room, and this directly controls the runtime of the machine.
The water tank holds about one gallon of water, and if you keep the setting low, you can get up to 24 hours of runtime out of one tank. However, there's one thing you should be cautious about when leaving it on low: Moisture tends to fall downward, and you could end up with damp surfaces around the humidifier. The ultrasonic technology offers quiet operation, but you might notice a low gurgling noise, like that of a fish tank. This could be annoying for some, but most people found this to be a pleasant white noise. Many people reported defective units, but this machine comes with a one-year warranty, so by all means, if you notice leaks or it isn't working, send it back.
One of the best things about this ultrasonic humidifier is how easy it is to fill and use, which could make this an ideal choice for you.
Pros
Simple operation
Variable humidity
Adjustable nozzle
Easy to fill
Cons
Leaves are damp
Defects common
---
Crane USA Filter-Free Cool Mist Humidifiers for Kids, Elephant
Elliott the Elephant is a fun addition to any nursery or kids' room, and it does more than look cute – it produces enough humidity for a room to help combat dry air symptoms. This Crane USA Filter-Free Cool Mist Humidifier for Kids (from Amazon) is adorable, quiet when it's working, and easy to use. You might notice a little bit of noise as it gurgles and uses the water up to create vapor to add moisture to the air, but it isn't loud enough to disturb most little sleepers.
It's simple enough to fill up the one-gallon tank, and if you run it at a moderate level, you should be able to get about 24 hours of runtime out of one fill. The variable humidity is controlled by a knob on the front of the unit, which makes it easy to choose just the right level for the room this little elephant humidifier is in. The light on this machine could be a good thing if you need a nightlight in your kids' room, but for some, it could be too bright. Plus, there are lots of reports of this humidifier breaking down right after the one-year mark for the warranty, which seems a little sketchy.
If you're looking for an adorable humidifier for your little one's room, this could be a good choice.
Pros
Simple operation
Variable humidity
Quiet operation
Easy to fill
Cons
Light is quite bright
Workmanship is questionable
---
Crane Warm & Cool Mist Top Fill Humidifier with Remote
A fantastic feature of the Crane USA Digital Clean Control Warm & Cool Mist Humidifier is that you can set the humidity level based on the humidity in the room. Say you want it to be at 50 percent humidity, you can set it up to run until it reaches that level, and then the unit shuts off. It'll turn back on if the humidity dips to 49 percent, and so on. All you'll have to do is occasionally refill the 1.2-gallon tank. If you keep the humidity level lower, you might be able to get 55 hours' run time out of it.
The digital display is easy to read and use, but the lights emanating from this unit may be a bit troublesome for some people. You can't turn off any of the illumination, and it may be too bright for use at night in a bedroom. This humidifier uses ultrasonic technology, so it's very quiet, but you may still hear a few noises. The warm mist option is great, but you likely won't notice much of a difference in temperature. Still, this is one of the most modern-looking, easy-to-use humidifiers on the market with lots of upgrades compared to the simpler options. You can even include a demineralization filter to help reduce the minerals in your water, which should reduce any white dust that's emitted.
If you want an ultrasonic humidifier that includes a humidistat and has a modern look with a digital display, this one could be for you.
Pros
Digital display
Variable humidity
Included humidistat
Adjustable nozzle
Warm mist option
Quiet
Cons
Lights cannot be turned off
Warm mist isn't warm
---
Crane Cool Mist Humidifier
The modern design of this Crane USA Cube Personal Ultrasonic Cool Mist Humidifier is modern and sleek, which makes it easy to add to almost any room for décor purposes.
The tank is a bit smaller at half a gallon, but that's larger than most small personal humidifiers, so if you keep the setting on low, you could get up to 15 hours of continuous moisture output. There is an adjustable nozzle at the top, so you can direct the humidity where you want it, but it's a little finicky.
Considering the size of this unit, it can easily fit on a desk or a nightstand for you to use for your own personal humidity. Although this is quiet, thanks to ultrasonic technology, it has a bright blue light on it that can illuminate a whole room, which could make it difficult to use at night in a bedroom. And there's no way to turn the light off. Another issue some people had was with the humidity or vapor falling to the ground, rather than heading straight up and into the air. Using it at a higher level can prevent that, though.
If you're looking for a small humidifier for your desk or other personal space, this could be a good choice for you.
Pros
Easy to use
Variable humidity
Good for desks
Adjustable nozzle
Quiet
Cons
Mist sometimes falls to the ground
Light cannot be turned off
---
Crane USA Essential Oil Diffuser Aroma Essential Oil Cool Mist Humidifier
Not everyone needs a humidifier that will fill a whole room or house with moisture, and in that case, you might want to take a look at the Crane USA Essential Oil Diffuser Aroma Essential Oil Cool Mist Humidifier. Yes, you read that right: This is also an essential oil diffuser. So, you can add essential oils to the tank to add a lovely scent to an area along with a bit of moisture. This is a small unit, so you can't expect a ton of humidity, but it works well for a small space. Fill the 100ml tank with water, and then plug it in.
There are no buttons or dials to get it going, it just runs on its own until it runs out of water, which should be up to six hours. There is a light option, so you can press a button on top to turn the light on, choose a color you prefer, or turn the light off. The biggest issue with this humidifier and diffuser is that it seems to break early on, and you cannot get replacement parts.
If you want a small personal humidifier that allows you to use essential oils, too, then this could be the best choice for you.
Pros
Diffuser
Personal use size
Quiet
Light is optional
Colorful lights
Cons
May fail early on
No humidity control
---
The Bottom Line
Crane offers a variety of humidifiers that work well in the bedroom, living room, office desk, nursery, your child's room, or any other room. Most of them provide enough humidity for a single room, and they're often quite effective at bumping up the humidity by several percentage points. Depending on what you need, one or another could be the best choice for you.
Considering what most people's needs are, though, the best Crane humidifier must be the Crane USA Filter-Free Cool Mist Humidifier. It offers almost all the features you'd want in a simple humidifier, with only a few missing attributes. It's an affordable option, and it's large enough that you're not likely to be refilling it more than once per day. It's easy to use, and it works well. The one-year warranty allows you to test it out for a while for defects, which is a nice bonus.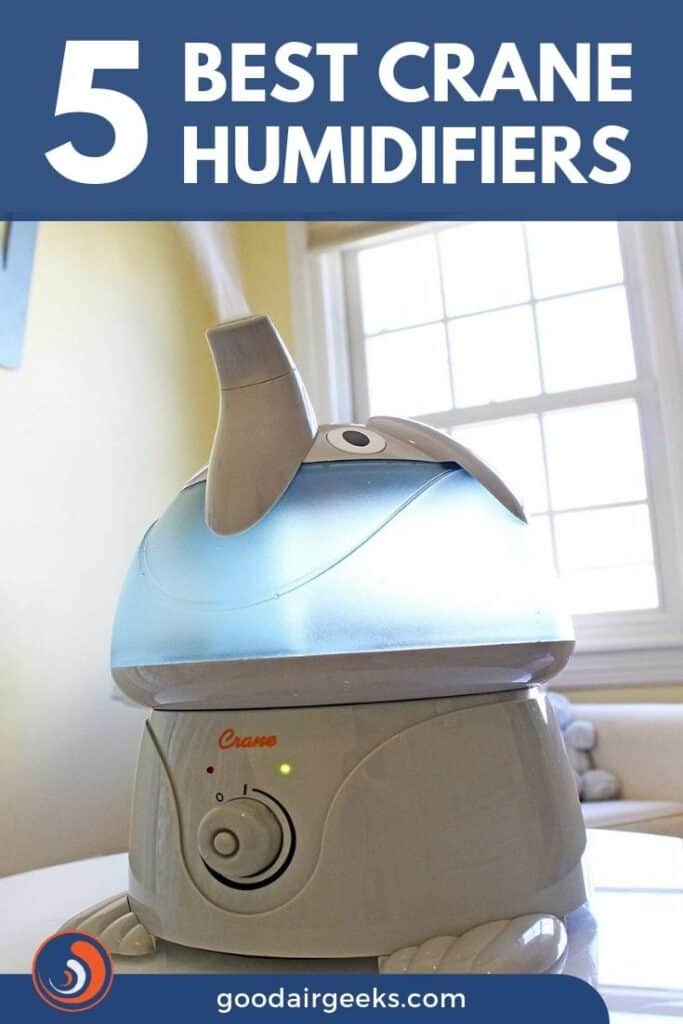 Last update on 2023-09-28 / Affiliate links / Images from Amazon Product Advertising API